AAC Light Weight Block Machine product advantage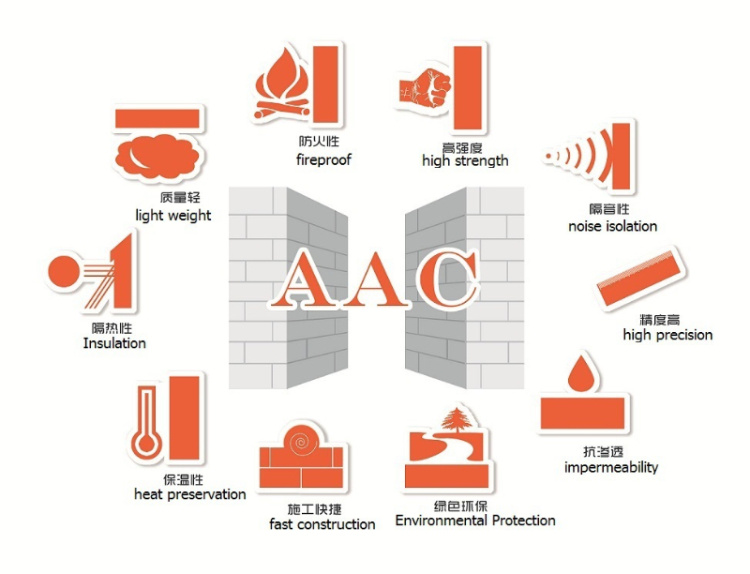 AAC Block compression strength of cuber meter
Volume density level
B06
B05
B04
desiccated density(kg/m³)
≤625
≤525
≤425
Strength level
A5.0
A3.5
A2.0
Drying shrinkage date
0.5
0.4
0.4
Freezing resistance
quality loss %
≤5.0
≤4.0
≤3.0
Strength after freezing(Mpa)
≥4.0
≥2.8
≥0.6
Dry coefficient of thermal conductivity
[W/(m•k)]
≤0.16
≤0.14
≤0.12
AAC Light Weight Block Machine 3D flow chart

AAC Light Weight Block Machine core equipment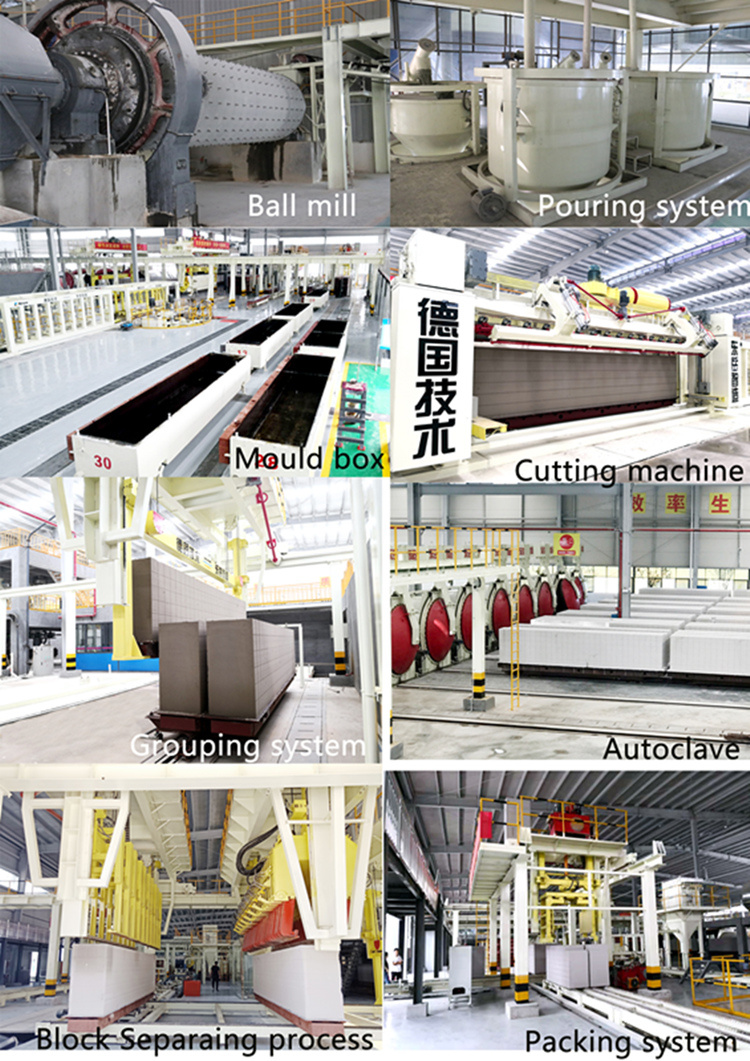 AAC Light Weight Block Machine raw material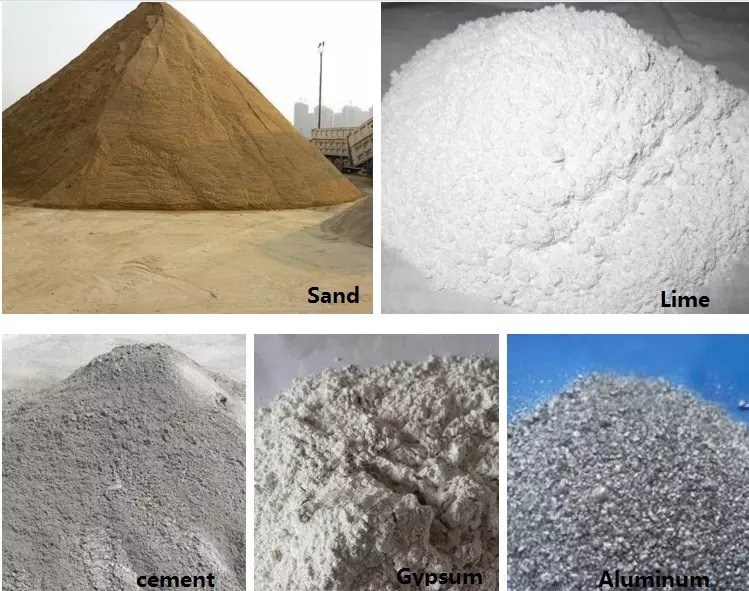 Fly-Ash
:A lot has been said about this raw material in this Project Profile itself. But this Raw material is freely available in Thermal Power plants. There are no taxes on this item whatsoever. Transportation charges are only to be attended by the entrepreneur.
Sand
(65-70%): the core raw material of AAC product; the main resource of silica-aluminum components; correspond with JC409-91; the clay should less than 4%
Lime
(12-20%):one of the main raw materials of fly ash AAC; the main effect is to provide efficient calcium oxide with cooperation of cement making calcium oxide react with SiO2,Al2O3 in hot water then to produce calcium silicate hydrate. Therefore, lime is also the main resource of strength. Effective calcium oxide of lime should not less than 65%, over 80% is perfect and should accord with JC/T621-1996.
Cement
(8-10%): This Project aims to utilize OPC cement as main binder material. It will give faster strength to the bricks, besides giving improved consistent quality. It also ensures a better cost effectiveness for the same. Using OPC will be a standardized practice. The other prime advantages of using OPC (compared to other binders) is it's easy availability locally through nationwide Retail Network of Cement Companies.
Gypsum
(1-2%):Gypsum is the foaming regulator in AAC which dispels quicklime and postpones slurry's densification.CaSO4 should be more than 70%.
Aluminum Podwer
(0.074%):it is the forming agent type and recommendation for supply depend on raw materials and mix formula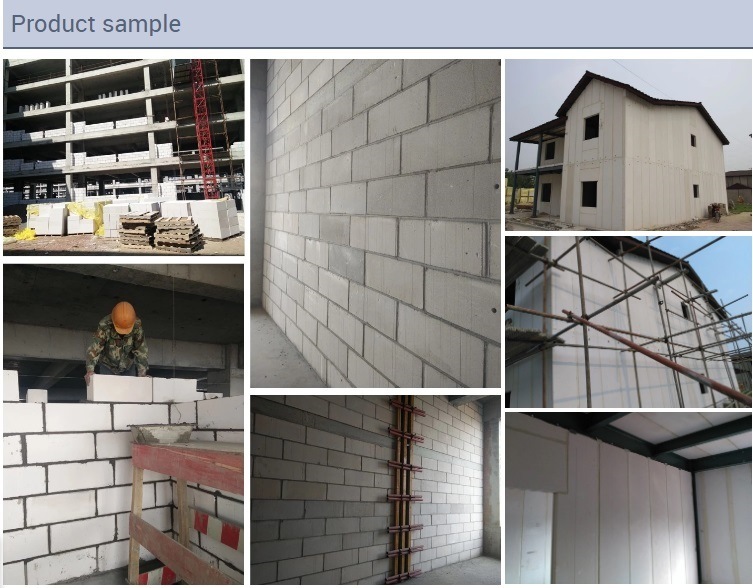 AAC Light Weight Block Machine shippment
1.General AAC block plant equipment transport with 40HQ container.
2.The ball mill transport with 40OT or transposrt with 40FR according the size.
3.The autoclave main body transport by car on port,and hoist on deck of ship.
4.Cutting machine usually transport with 40FR.
5.Our package with wooden box,suitable for sea transport.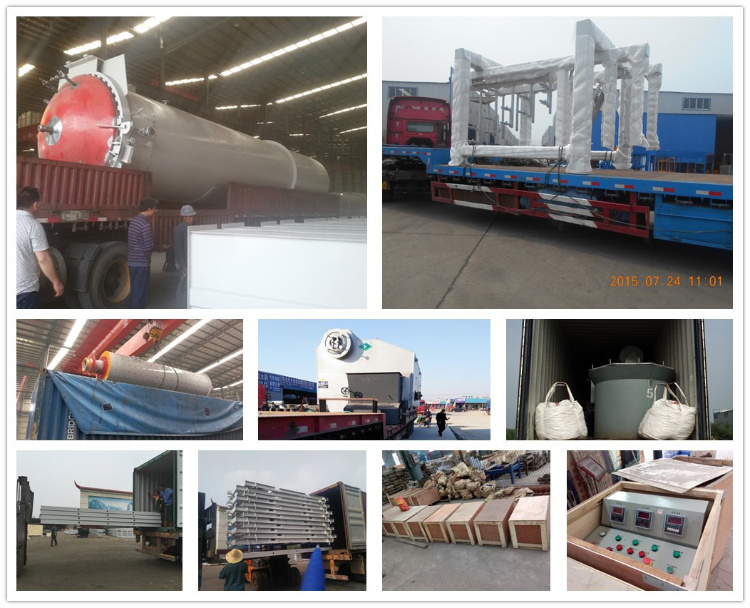 DONGYUE MACHINERY GROUP PROFILE
Dongyue Machinery Group Co.,Ltd(Subsidiary company-LinYi Dongyue IMP&EXP Co.,Ltd). is a company specialized in producting Automatic brick machine , the aerated concrete wall panel production line, autoclaved lime sand brick production line, autoclave etc. A and second-class pressure vessel, aerated concrete blocks, sand-lime brick, panel products, plant asphalt nine series,more than 60 varieties.
On June 17th, 2013. Dongyue Machinery Co.,LTD and AAC-Concept GMBH signed the agreement of technology cooperation. This meant the great improvement for Dongyue Machinery Co.,LTD in terms of exporting Germany advanced AAC technoloy.
In 2012 and 2017,Dongyue successfully held China AAC industry meeting,which is the most professional AAC industry in China.This shows Dongyue's leading position in the AAC instry and Dongyue's strength in the manufacture of AAC block and panel production line.