Wiskind China Group Introduction
Founded in 1978, Wiskind Group is mainly specialized in such businesses as manufacturing of architectural steel products and cold-rolled steel, as well as the trade of coated steel sheets. As a company of the Group and a national hi-tech enterprise, Shandong Wiskind Architectural Steel Co., Ltd. which was listed on the new OTC market in 2014, is a specialized manufacturer and service provider of metal cladding system and steel structure products.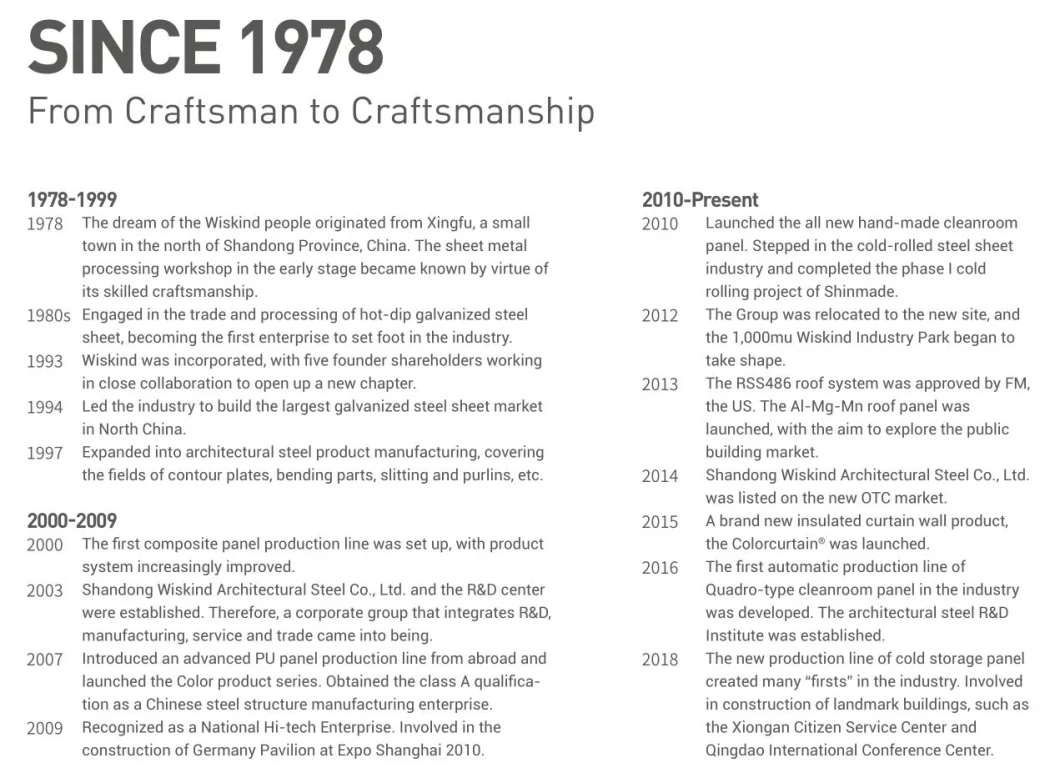 European quality

We have introduced cutting-edge equipment from Italy's OMS and have a 42-meter double track, which is the longest track in China's sandwich panel industry,A track ten meters longer than the competition can increase the curing time by 30%,allowing the core material to be cured more fully, the board performance is more stable, and the quality is better.
In terms of raw material proportioning and process output,we have realized six-component continuous foaming for the first time in China.
Wiskind Sandwich Panel Introduction
50/75/80/100/150mm Pu Sandwich Panel Facade Production
PUR
In terms of raw material proportioning and process output, PUR products employ the globally advanced six component online automatic (SIMENS) mixing and pouring technology and have realized six-component continuous foaming for the first time in China. With the technology, mixing and proportioning process may be finished in an online way;the formula may be adjusted according to environmental changes; air feeding and mixing devices may be used to make raw material mixing more even and foam finer, thus producing high-strength, energy-saving and environment friendly building boards.
PIR
Polyisocyanurate is called PIR for short. For the composite boards developed , excessive isocyanurate is added and ring structure and higher isocyanurate index are employed in the compounds to form compact PIR products, thus ensuring greater stability and excellent heat and fire resistance for the internal rigid foams. Experiments show that the products can endure a temperature up to 200ºC in short time period or to 160ºC for long time.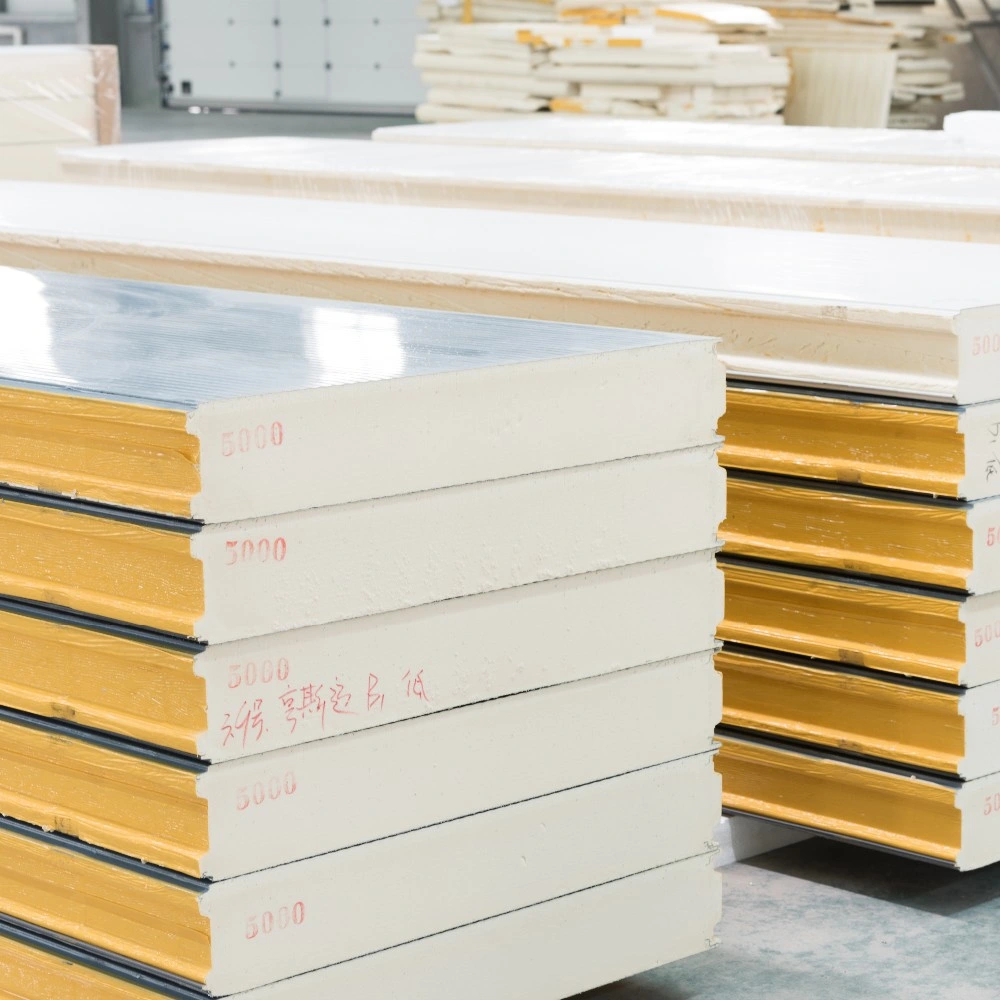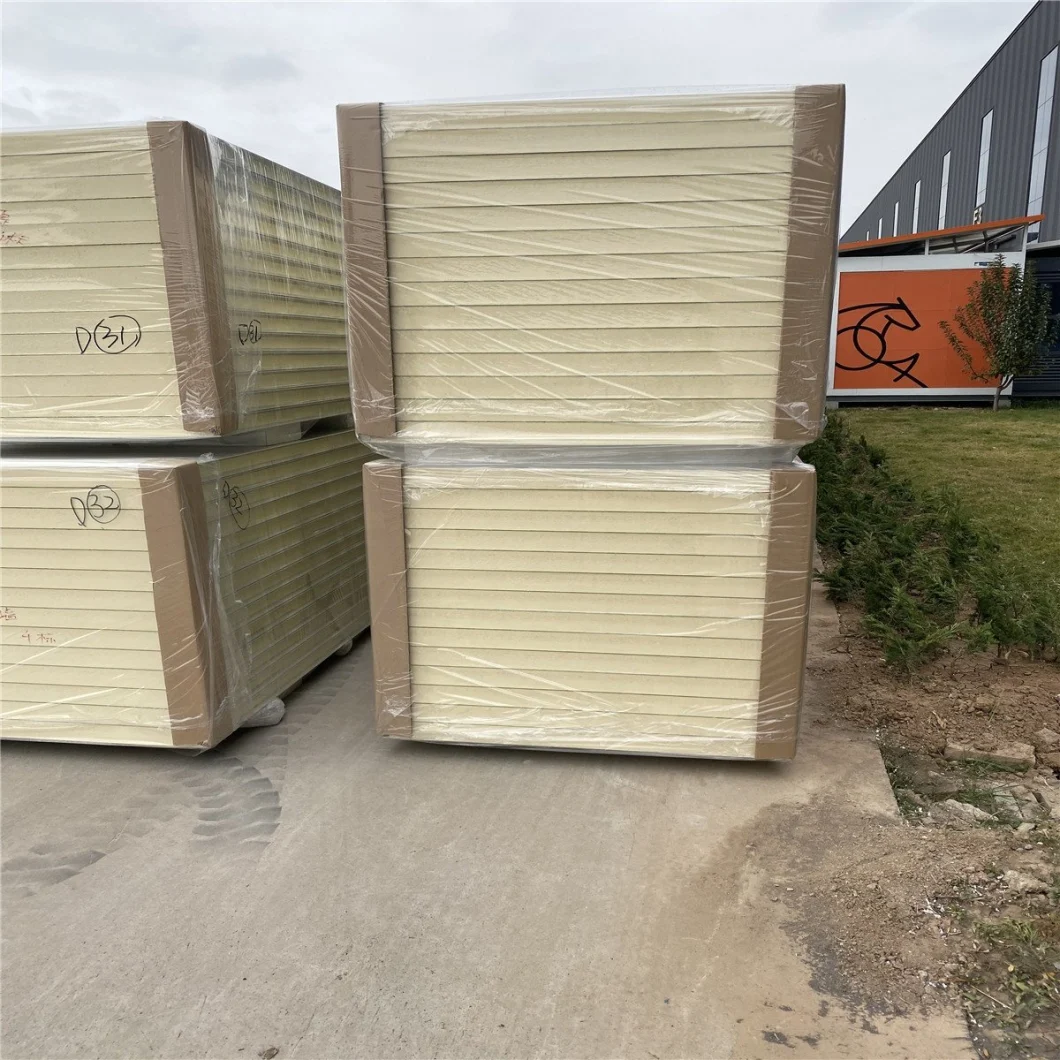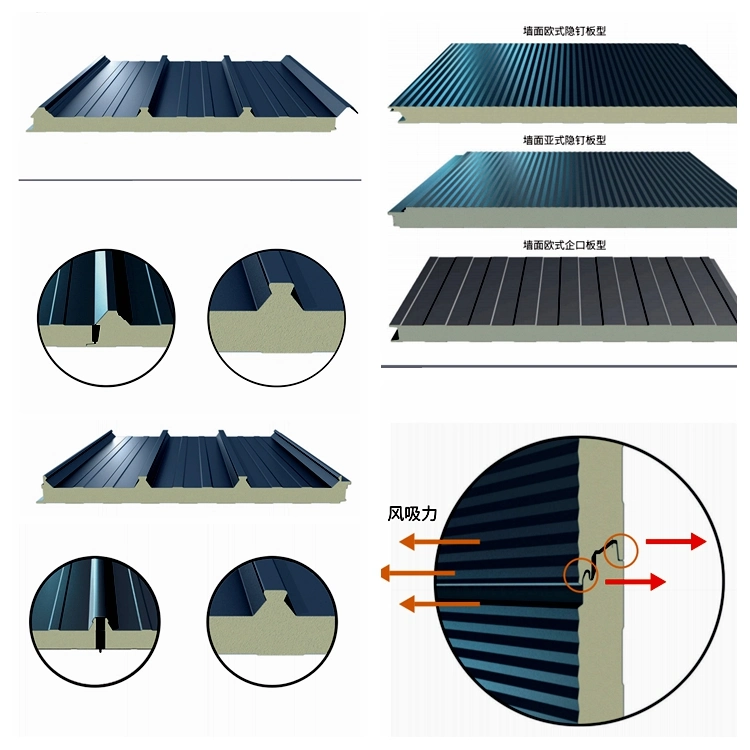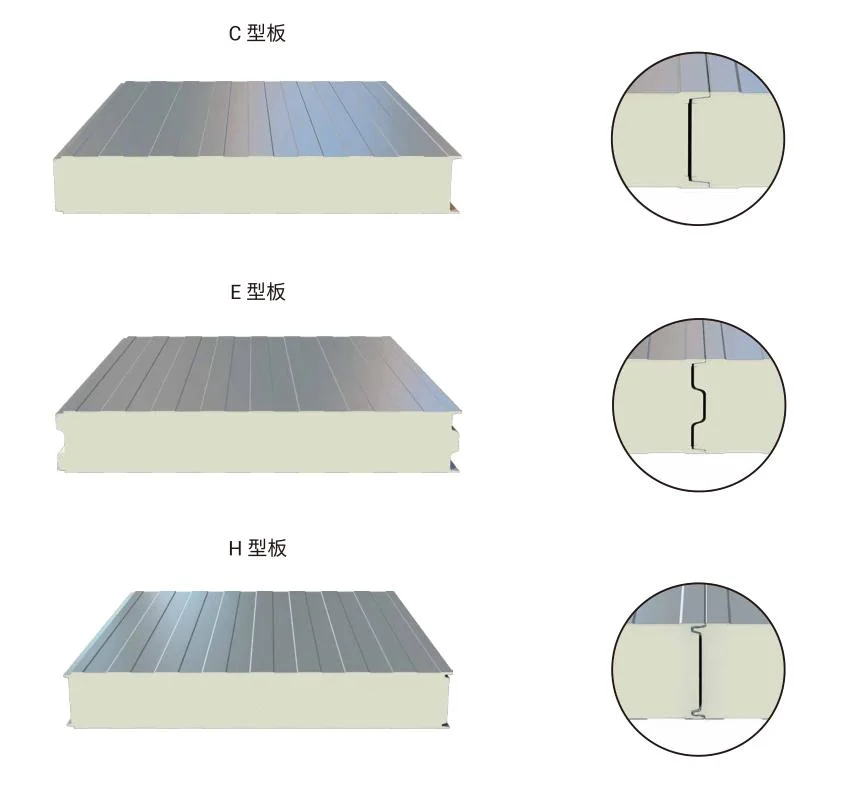 Performance Description
1.High efficiency and energy conservation: the excellent thermal insulation performance reduces building energy consumption and reduces costs on air-conditioning equipment.
2.Beautiful facade: the hidden nail connection guarantees hidden screws and more beautiful building walls.
3.Solid and durable: high-strength panels and excellent mechanical properties of walls.
4.Patented design: the unique double-support plug interface design ensures that walls have stronger wind pressure-resistant capacity and are solider.
5.Multiple choices: multiple panel types.
6.European Technology+Chinese Wisdom offer safer products.
7.The products have passed the tests conducted by national authoritative organizations and are used more confidently.

Allowable vertical load and thermal performance of

polyurethane sandwich wall panel

(allowable deflection f≤L/200)

S(mm)

W/m2k

G(kg)

P=KN/m2

0.60

0.80

1.00

1.20

1.50

50

0.31

10.06

L(m)

3.52

3.04

2.69

2.42

2.11

75

0.21

11.06

L(m)

4.71

4.09

3.64

3.29

2.89

100

0.19

12.05

L(m)

5.76

5.02

4.47

4.05

3.56

120

0.16

12.84

L(m)

6.53

5.68

5.07

4.60

4.04

150

0.11

14.04

L(m)

7.56

6.58

5.87

5.32

4.68

Note:0.5mm outer steel sheet and 0.4mm inner steel

Allowable Span and Thermal Conductivity of

Polyurethane Roof Sandwich Panel(allowable deformation f≤L/240)

S(mm)

W/m2k

G(kg)

P=KN/m2

0.60

0.80

1.00

1.20

1.50

30

0.32

9.32

L(m)

2.60

2.30

2.08

1.91

1.72

50

0.31

10.15

L(m)

3.59

3.17

2.85

2.61

2.33

75

0.21

11.18

L(m)

4.64

4.07

3.66

3.34

2.96

100

0.19

12.22

L(m)

5.57

4.88

4.38

3.99

3.53

120

0.16

13.05

L(m)

6.28

5.49

4.92

4.48

3.97

150

0.11

14.3

L(m)

7.30

6.39

5.73

5.22

4.62

Note:0.5mm outer steel sheet and 0.4mm inner steel
The Research Institute & the Central Laboratory
Wiskind has set up a first-class professional Research Institute and Central Laboratory in the country, which has been recognized as Shandong Provincial Level Enterprise Technology Center. The Research Institute established through collaboration with Shandong University is equipped with more than 40 sets of specialized equipment, and dedicated to the testing of physical, mechanical and combustion properties of raw and auxiliary materials, final products, in addition to the R&D of new products. The operation of the Central Laboratory follows the international standards, and product quality control is classified into five modules, i.e., raw and auxiliary material inspection, product testing, process audit and laboratory inspection, which truly allows a seamless quality control process from raw material purchase, to inspection of final products, so as to guarantee a stable product quality.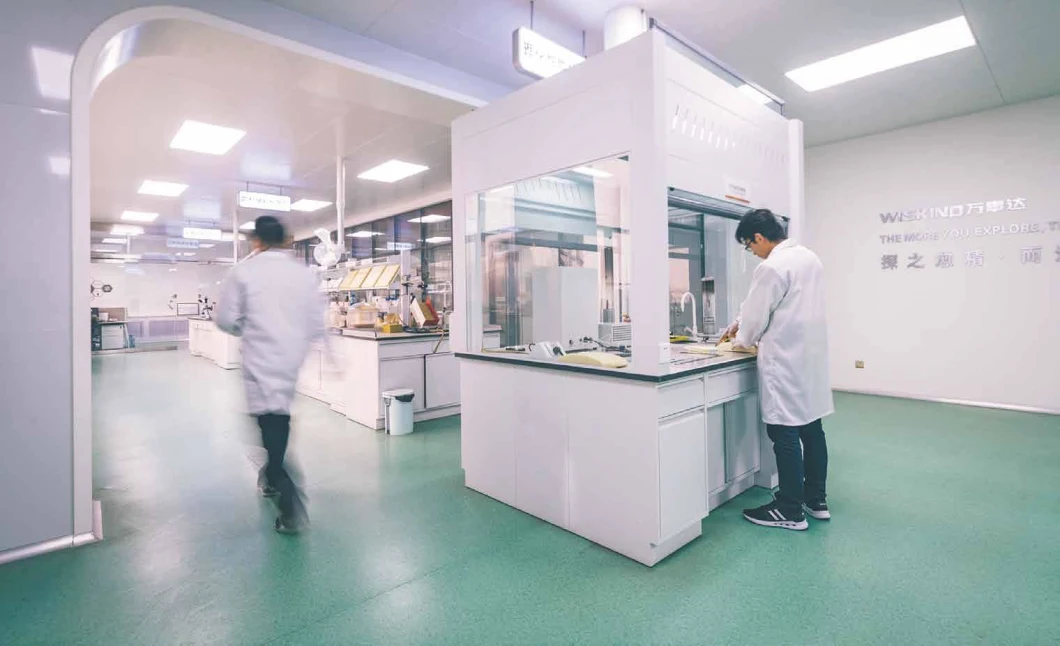 Certificate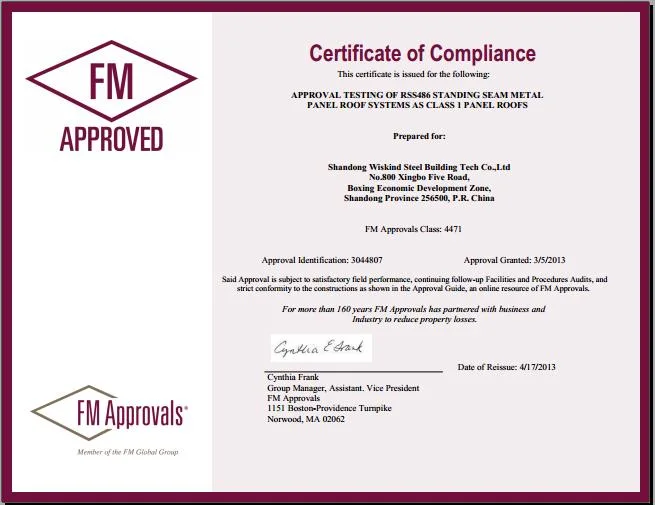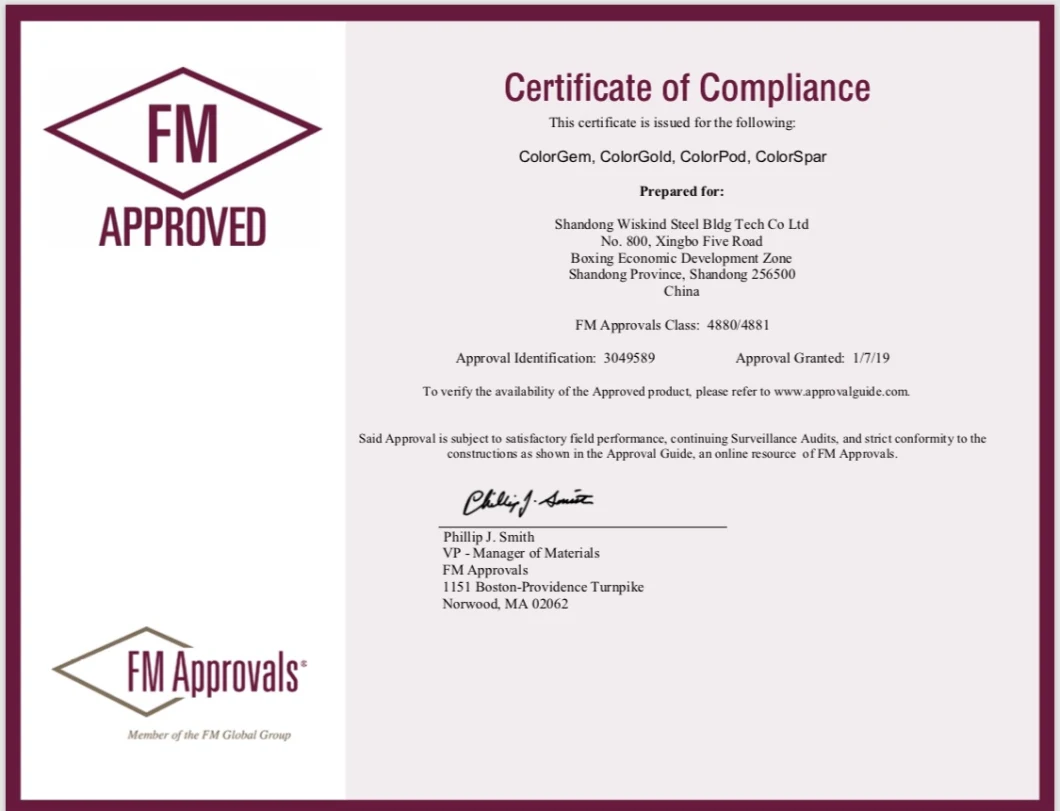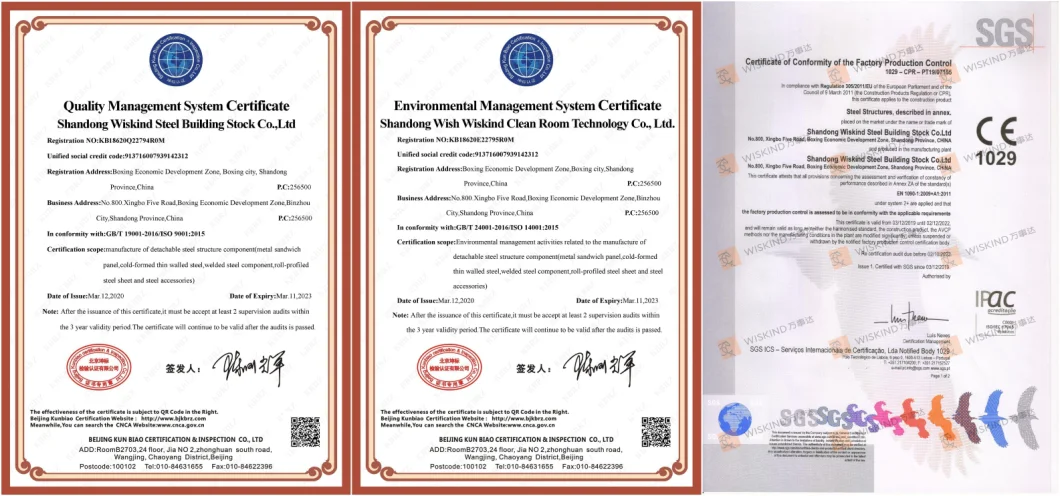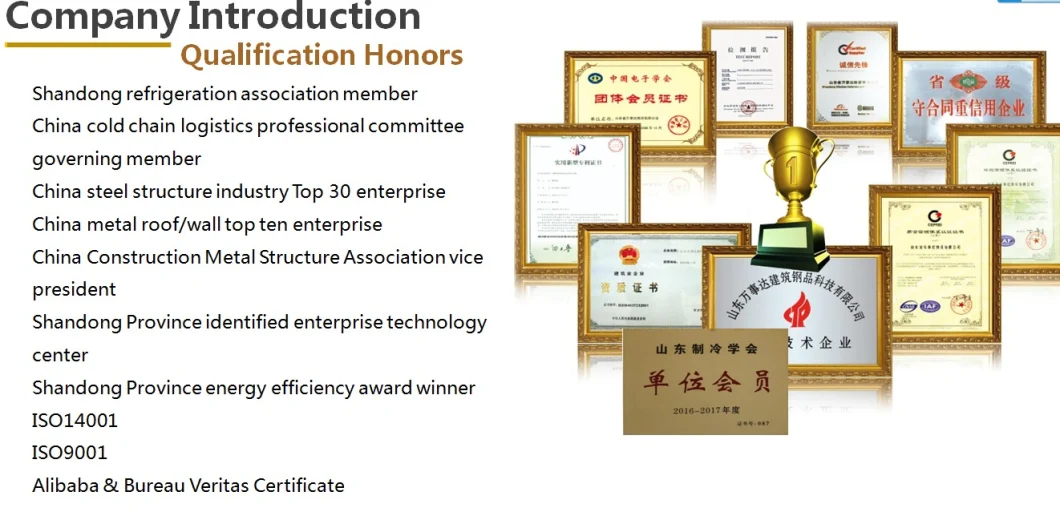 BUILDING FOR BEAUTY AND ETERNITY
Qingdao
Xiaojianxi Domestic Waste Incineration Power Plant