HDPE Solid Wall Pipe Extrusion Line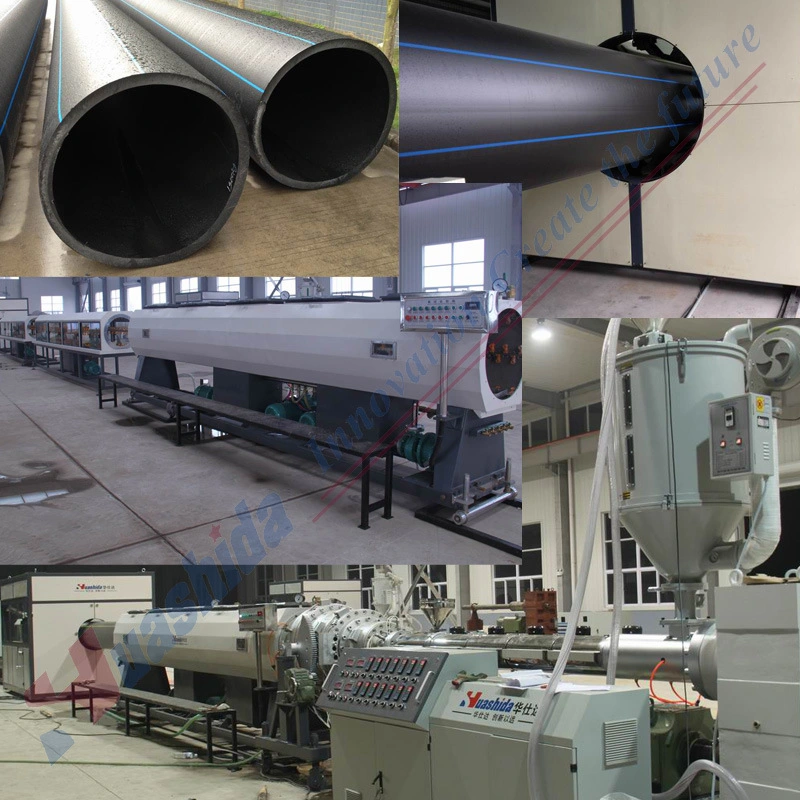 ---Pipe diameter range: PE-16/63 PE75/160 PE160/315 PE200/450 PE315/630 PE500/800 PE710/1200mm
-HDPE Pressure Pipe Extrusion Line
INTRODUCTION
Pipe range: 20-63mm, 90-250mm 110-315mm 400-630mm
Pipe application area:
Municipal water supplying and gas supplying etc.
Composition of Equipments
1.1set Vacuum loader
2.1set Hopper Dryer.
3.1set Efficient single screw extruder (Long L/D ratio)
4.1set Mould
5.1set Co-extruder for mark line.
6.1set Vacuum calibration tank
7.2sets Water spraying tank
8.1set Hauling machine
9.1set Cutting machine
10.1set Stacker
Extruder
Efficient single screw extruder with water-cooling force feeding system, and barrel with grooving in the feeding zone are designed to save power of main motor; Long L/D ratio and mixing head are designed to get perfect jellification and high output.
Extrusion die head
Flow channel is specially treated to have better wear-resisting; spiral die head increases extrusion pressure to improve quality of pipe.
Vacuum calibration tank & Water spraying tank
It adopts bronze or stainless steel calibrators; High-efficiency water-spraying cooling to ensure quality of pipes.
Hauling machine
High qualified rubber block is with longer life, we don't accept blocks made by recycled materials. Hauling speed is synchronized with extruder.
Planetary cutting machine
High qualified alloy steel blade; planetary cutting to get smooth edge; High cutting precision; PLC controlling.
TECHNICAL PARAMETERS
| | | | | | | | |
| --- | --- | --- | --- | --- | --- | --- | --- |
| Style | PE16/63 | PE75/160 | PE160/315 | PE200/450 | PE-315/630 | PE-500/800 | PE-710/1200 |
| Main extruder | SJ-65/30 | SJ-75/33 | SJ90/33 | SJ90/33 | SJ-120/33 | SJ-120/33 | SJ-150/33 |
| Main motor | 55kw | 90kw | 132kwDC | 160kwDC | 185kwDC | 250kwDC | 400kwDC |
| Pipe diameter | Φ16-63mm | Φ75-160mm | Φ160-315mm | Φ200-450mm | Φ315-630mm | Φ850-1372mm | Φ960-1680mm |
| Capacity | 80-100kg/h | 180-250kg/h | 280-400kg/h | 350-500kg/h | 450-600kg/h | 700-900kg/h | 800-1200kg/h |