HDPE Solid Wall pressure Pipe (20-63mm) Extrusion Line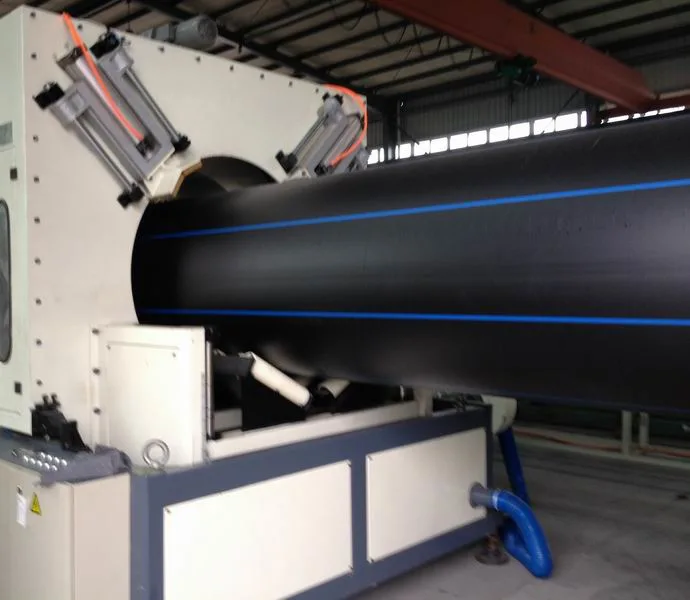 HDPE pressure Pipe Extrusion Line is a pipe extrusion line developed by HSD company through assimilate and master technology introduced from abroad. It is applicable for extrusion of PE, PP, PB, PERT, ABS etc. This PE pipe production line can instead extrusion line imported from abroad.

This pipe extrusion line mainly includes single screw extruder, molds, vacuum calibrating water tank, spray water cooling tank, haul-off machine, cutting machine and bracket.

Plastic Pipes produced by this line have excellent stiffness, flexibility, high mechanical strength, resistance of environmental stress cracks, resistance to creep deformation, heat-linkage and so on. It has become the first choice for the city gas pipe, water supply pipe, foundation pipe, landfill collection pipe, watermain, geothermal heating etc.
HDPE
pipe extruding line composed of single screw extruder and corresponding auxiliaries, can produce all kinds of small diameter
HDPE
plastic pipes continuously. It also can be used to produce PS, PP,
HDPE
plastic pipes after replacing the screw.
HDPE
plastic pipe is widely used for liquid conveying in agricultural, chemical industry, construction industry, etc.
HDPE
pipe extruding line is mainly composed of single screw extruder, die-head, vacuum forming tank, spray cooling tank, haul-off device, cutting device, and pneumatic discharging frame.
Single screw extruder is composed of AC motor, hard toothed surface reduction gear, extruding system, heating and cooling system, and electrical controlling part. AC motor transfer the power to reduction gearbox via V-belt wheel and make screw rotate at certain speed to adapt to extruding all kinds of plastics.
Die-head is mainly composed of mandril, neck mold, spiral body, cover, die-head body, bolts, and heating rings. The inside surface touching with plastic materials is polished and chrome plated to ensure plastic materials flow smoothly and to ensure no rusting. The uniformity of pipe wall thickness can be adjusted by bolts. The copper calibrating sleeve fixed in die-head is mainly used to cool down the fresh pipe and to calibrate the pipe outer diameter.
Vacuum forming tank is mainly composed of frame, stainless steel tank, vacuum system, spray cooling system, back and forth mobile device. When it is at work, the vacuum pump exhausts the air from the sealed tank to pressurize the fresh pipe cling to calibrating copper sleeve and to realize calibrating the pipe outer diameter. Spray cooling system is used to cool down the extruded pipe by water. Spray nozzles spray cooling water from all directions on pipe surface to cool down the pipe promptly.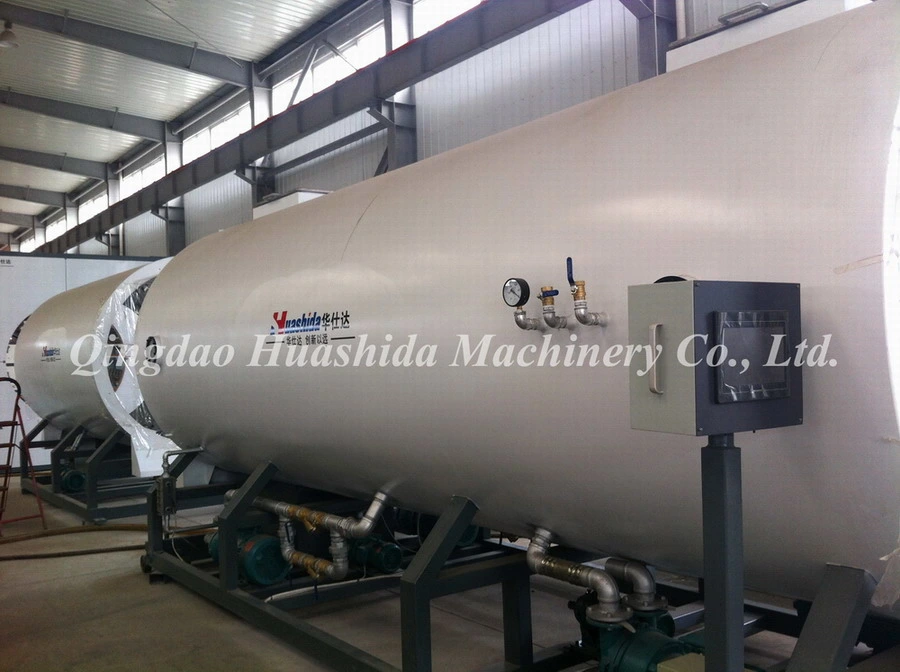 Water cooling tank is mainly composed of frame, stainless steel tank, and spray cooling system. Spray cooling system is used to cool down the pipe further and to realize cooling completely and forming.
5. Caterpillar Haul-off Machine
Haul-off machine is mainly composed of driving device, haul-off chain caterpillar, clamping structure, adjusting system, side plate, and foundation bed. Haul-off caterpillars are AC motor driven and adopt frequency control of speed to adapt to different pipes extruding speed. It is also equipped with automatic length measuring device to realize cutter cutting at set length.
It adopts blade punching principle to realize no-dust cutting. It is mainly composed of cutting device, clamping device, structure synchronous mobile device, and frame.
The table surface is made of stainless steel. It adopts pneumatic overturn and discharging automatically.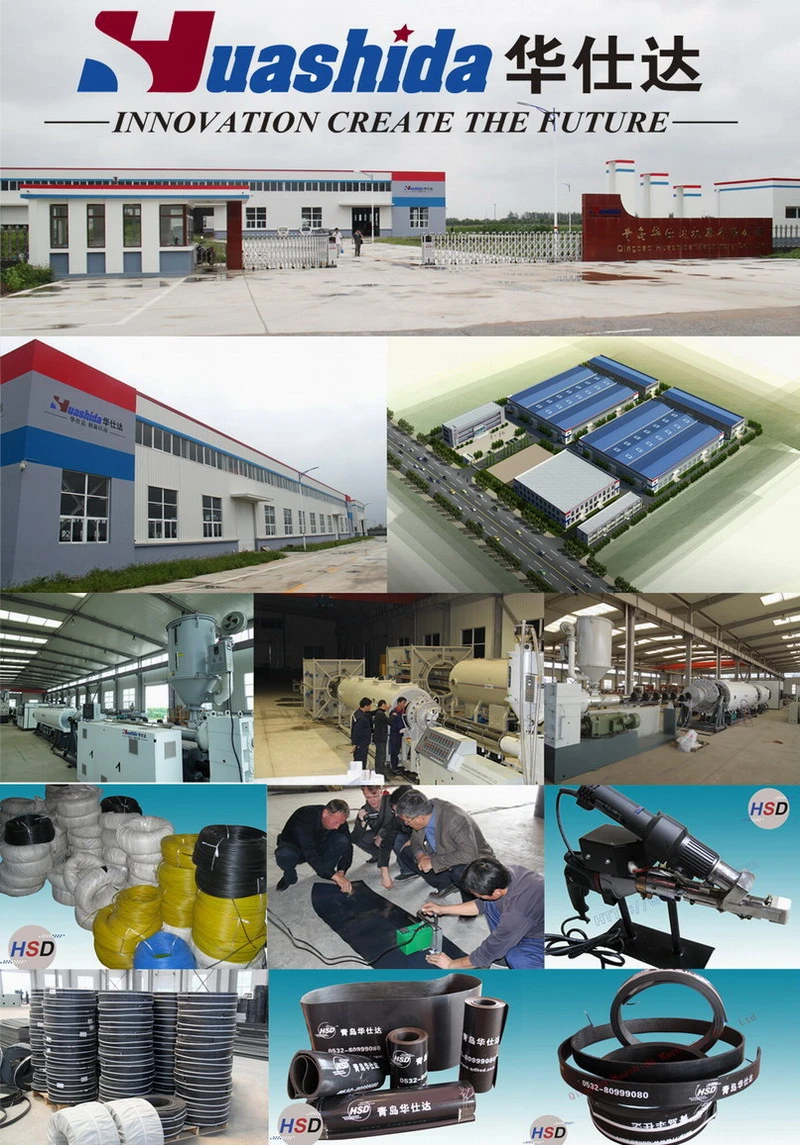 | | |
| --- | --- |
| Model | SRQG-1200 |
| Pipe Size(mm) | Φ 1000-Φ 1200 |