HFP512A EPS Automatic Horizontal Precast Concrete Wall Panel Extrusion Machine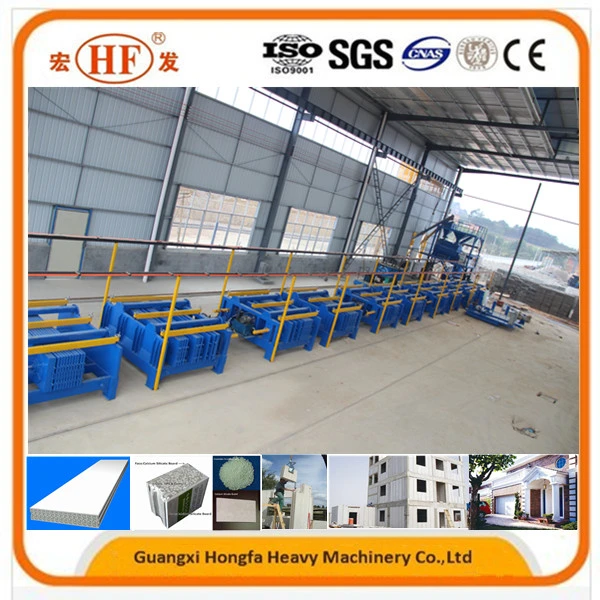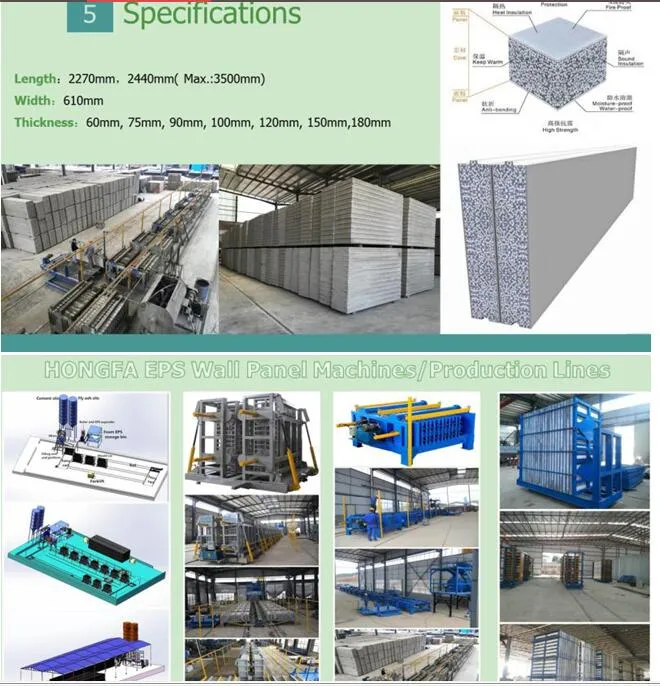 The Production Process of EPS Sandwich Cement Lightweight Wall Panel
EPS sandwich panel machine adopts PLC and touch screen control, automatic filling, electronic weighing, temperature control, material level control to realize automatic production.
The closed constant pressure foaming barrel features of high heating efficiency and saves stem.
Item

Unit

EPS light wall panel

60mm

90mm

120mm

Anti-impact capacity

time

≥5

≥5

≥5

Anti-bending damage load

/

≥1.5

≥1.5

≥1.5

Compressive strength

MPa

≥3.7

≥4.0

≥4.2

Softening coefficient

/

≥0.84

≥0.84

≥0.84

Surface density

kg/m2

≤55

≤65

≤75

Moisture rate

%

≤1.9

≤1.9

≤1.9

Hanging force

N

≥1000

≥1000

≥1000

Drying shrinkage value

mm/m

≤0.3

≤0.3

≤0.3

Heat transfer coefficient

W/(m2·k)

/

/

≤1.45

Radioactivity limit

/

≤0.25

≤0.25

≤0.25

Sound insulation

dB

≥35

≥42

≥50

Fire proof limit

h

≥2

≥2.35

≥3
The Advantages of Lightweight Concrete EPS Wall Panel Machine:
High precise guiding pressure reducing valve controls the temperature and steam pressure of the closed barrel, ensuring the outcome pressure of the valve constant and the inner temperature controlled within ±1%, which keeps the foamed material equal and prevents the bead agglomerate because of the bad temperature control.

With photoelectric or vibration sensor to control material level, ensuring density tolerance within ±3%.
The Sandwich Lightweight EPS Cement Making Machine Features:
The light weight eps concrete machine is equipped with fluidized bed dryer, including drying, automatic sieving, depluming and material conveying to silos.
Most components of eps light weight wall panel making machine are of world-famous brands, with reliable performance, stable quality, long service life and low maintenance cost.Semi-Automatic PET Bottle Blowing Machine Bottle Making Machine Bottle Moulding Machine.

Lightweight EPS Wallboard Making Machine (Horizon Type) Solve the Following Problems:
The horizontal lightweight EPS wallboard making machine greatly reduces the labor intensity of production workers, and completely removes the disadvantages of the past vertical molds and other molds casting.

Horizon molding wall panel production line to solve problems like aluminum alloy plate loading of other models, not accurate size slurry perfusion pouring, core material not full, need to manually using the steel core and vibration compaction, demoulding time problem. The design concept of science and mature skills production made of domestically the most advanced production equipment and good quality EPS wall plate.

FAQ
Shipping port: Qingdao or Fangcheng Port China.
Payment:30% as down deposit by T/T ,70% as the balance paid before loading
Guarantee Period: Three year after installation finished at buyer's factory.
The above price includes one mold for free, extra molds should be paid according to design.
The video is available to send to you, please contact me.

Package & Delivery
Packing: Naked packing or stretch film packing or according to customers' requirements
Delivery time: Within 40 days after receipt of deposit and moulds confirmation from buyer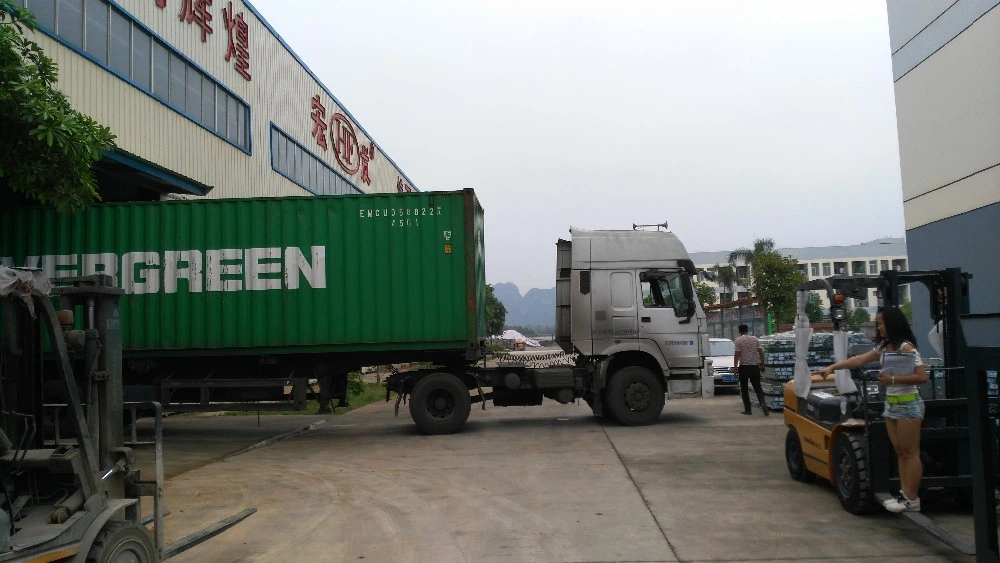 After sale service
Guarantee for three year and after sale service for whole life.To offer free design,free technology support and free machine maintenance trainning.
We will provide you with a set of spare parts for free!
Guangxi Hongfa Heavy Machinery Group





Guangxi Hongfa Heavy Machinery Group was established in 1990, is one of the largest block making manufacturer and leading supplier of the building block industry in China,as an ISO9001-2000 certificate and "Famous Brand in Guangxi"enterprise and member of China Building Block Association.



Hongfa Machinery'Honor
1.One of Top Ten Influential Brands in China Brick &Tile Industry
2.China National Enterprice Abiding By Contract & Keeping Good Faith
3.Quality and Credibility of the Dual-protectionb Demonstration Unit
4.High and New Technology Enterprise
5.Famous Trademark of China
6.Star Enterprise with China Patent
7.AAA Grade Credit Enterprise
8.Consumer Satisfaction Unit
9.One of Top 100 building Material Industry Brands of China
10.One of Top Ten Good Faith Units
11.Advanced Exporter in Guangxi Province
12.Advance Quality Management Unit



Exhibitions & cooperations
Hongfa, as a top brand enterprise in China, our products are also exported to Russia, Brazil, Thailand, Indonesia, Vietnam, Angola, Bangladesh, India, Australia, Sudan, etc., 96 countries and regions, deeply welcomed by clients from all around the world.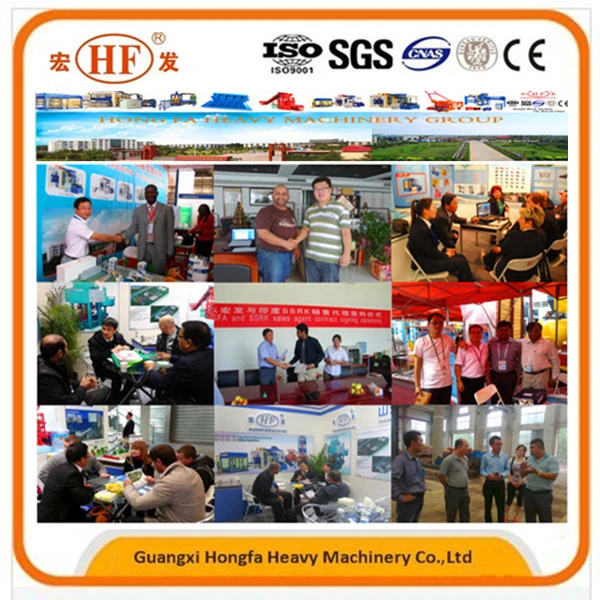 Hongfa Machinery Group Main Products :
concrete brick machine, EPS wall panel machine, AAC production line, concrete batching plant, concrete tile machine and concrete pipe machine.
Automatic Block Making:
QT12-15D QT12-15 QT10-15D QT10-15 QT9-15 QT8-15D
QT8-15B QT6-15D QT6-15C QT6-15B QT4-15D QT4-15C
QT4-15B QT4-20C QTJ4-25
Semi-automatic:
QTJ4-35B2 QTJ4-40B2
Semi-automatic egg-laying machine:
QTY4-30 QMJ4-45 QTJ2-45 JMQ-6A
Color Paver Color tile forming machine:
QT3-20 SMY8-150
HF-800 pipe-making machine HF-2000 pipe-making machine
Concrete Mixing Plant:
HZS25 HZS35 HZS50 HZS60 HZS series
AAC Block production line : 50000~300000M3/Year
When you plan to purchase a certain machine, suggesting to take care below points:
1. What is the brand? ( Now a lot companies embezzle our brand, pls take note our prevention fake-mark.)
2. Does this brand has good reputation and sell well in the market?(we got good reputation and are the biggest supplier in China)
3. What is the materials they used? Manganese steel or A3 steel? (We use Manganese steel which stronger than A3 steel)
4.The price cover to what equipment?( pls refer to our quotation list)
Please not hesitate to contact us if you are interested in any kinds of products.
Contact Information:
Foreign Trade Dept. :Wendy Deng
Guangxi Hongfa Heavy Machinery Co.,Ltd.
Wesite:http://gxhongfa.en.made-in-china.com

Tel:0086-188-0771-7594
0086-771-5672282
0086-771-6036912
Fax: 0086-771-6036901
Factory add: Linyi city, Shandong province & Nanning city, Guangxi Province, China