Marble Plinth/Skirting Border for Wall/TV Wall/Ceiling Decoration
We have very good quality for the marble stone, t

hey look warm, classic and luxury. We have many marble with different price range for your different projects.
Marble can be applied to

tiles and marbles, onyx, black marble, construction material, green marble, white marble, marble fireplace, marble table, lime stone, onyx stone slab, onyx marble, beige marble, decoration material, bathroom tile factory, mosaic tile, marble carved stone, polished wall tile, stone mosaic, paving stone, glass marble, marble tile, toilet floor tiles, floor tile, tile, tiles, floor tiles, building material, flooring tile, wall tile factory, bathroom floor tiles, wall tile, swimming pool tile, rubber floor, marble tiles, floor, marble floor, marble slab, marble tile,

marble stair, marble vanity top, window sill, Medallion, Mosaic, Culture stone, Column&Pillar, Plinth, etc.
Please kindly have a look of more details as bellow of the finishes, sizes and the products:
Specification of Main Marble Products
Color:
Grey, Red, Black, White, Cream, Beige, Yellow,Pink, Green, Blue,

Brown
Finish:

Polished, Flamed, Saw cut, Honed, Bush hammered, Natural, Flamed+Brushed, Brushed,Leather, Tumbled, Split face, Machine hammered, Pineapple, Imitate antique, Brushed, Sand blasted, Rough picked, Mushroom, Wave, Congan
Available size:
Tile
305X305X10mm(12''x12''x3/8''), 400X400X10mm(16''x16''x3/8''), 457x457x10mm (18"x18"x3/8"), 305X610X10mm(12''x24''x3/8''), 300x600x15/18/20/30mm, 600x600x15/18/20/30mm, 400x400x15/18/20/30mm, 800x800x18/20/30mm, 1200x1200x18/20/30mm,etc.
Step and riser
1000/1100/1200-1700X300/320/330X20/30/40mm,etc.

1000/1100/1200 -1700X140/150/160X15/18/20mm,etc.
Vanity countertop
661x610mm(26"x24"),813x610mm(32"x24"),
915x610mm(36"x24"),1067x610mm(42"x24"),
1220x610mm(48''x24''),1423x610mm(56''x24''),
1677x610mm(66''x24''),1830x610mm(72"x24"),
2110x610mm(83"x24"),2438x610mm(96"x24")etc.

Width for back splashes: 2'',4'',6'', according to your requirement.


hickness: 20mm(3/4''), 30mm(1 1/4''), Customized
Window sill
42/66/92/110/112/116/138x20-25mmx20mm or customized
Medallion
915x915x10mm (36"x36"x3/8"), 610x1220x10mm (24"x48"x3/8"), 1000x1000x18mm, 1200x1200x18mm, Customized.
Mosaic
305x305x10mm((12"x12"x3/8''), 300x300x8/10mm,

Culture stone
150x600x10-20mm, 300x150x10-15mm/300x300x10-15mm, 100x360x15-30mm,
Column & Pillar
Head: Height: 200-450mm, Diam: 450-1200mm

Body: Height: 2500-6000mm, Diam: 350-1000mm


Base: Height: 200-450mm, Diam: 450-1200mm, Customized
Plinth
600-2440X100/120/150/200/250/300X30/40/50mm
Packing
Wood Crating, Wood Pallet, Plywood Crating & Pallet, Wooden Frame,

Wooden Crating&Frame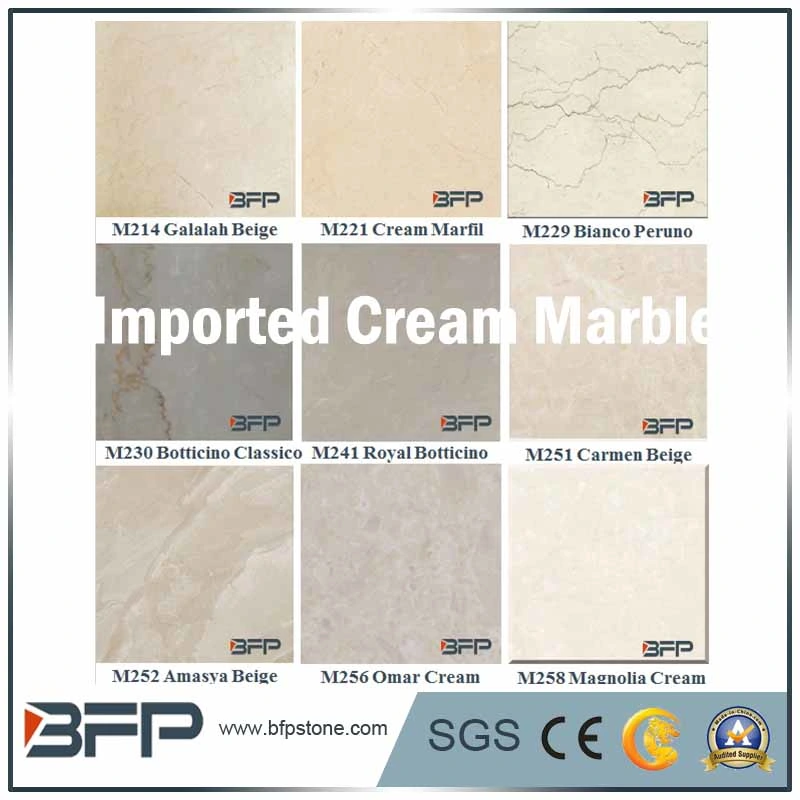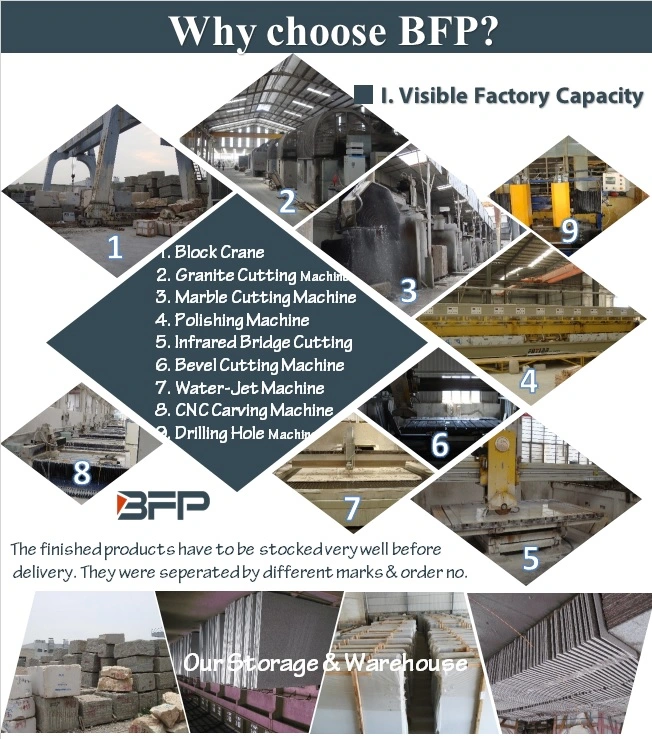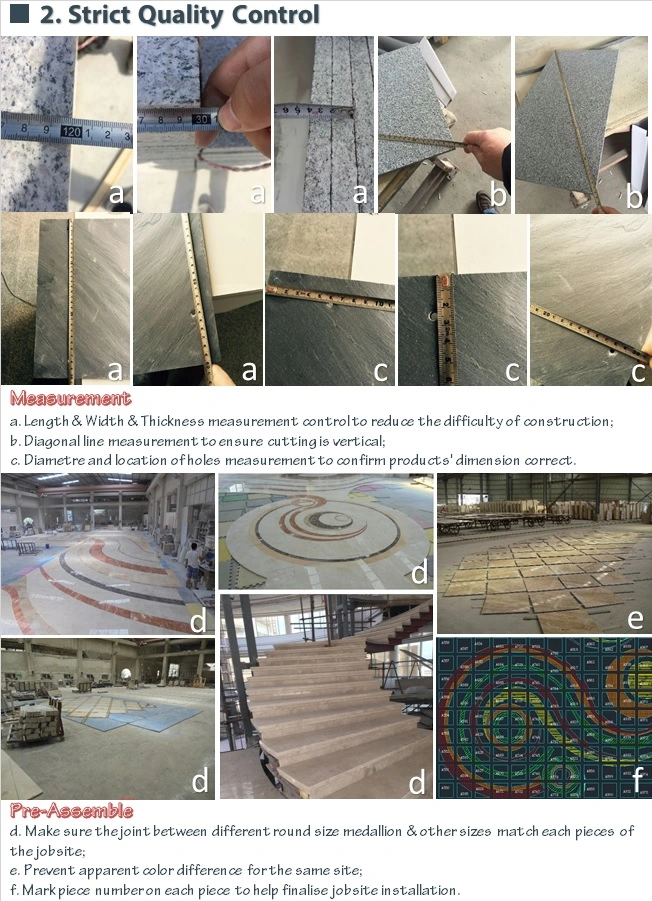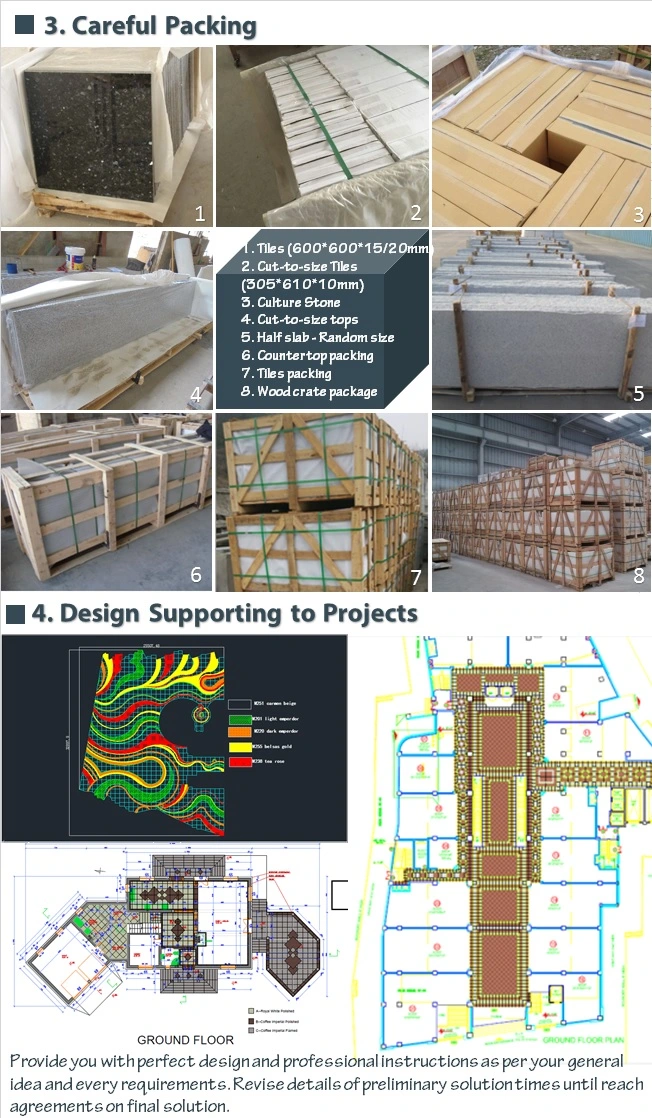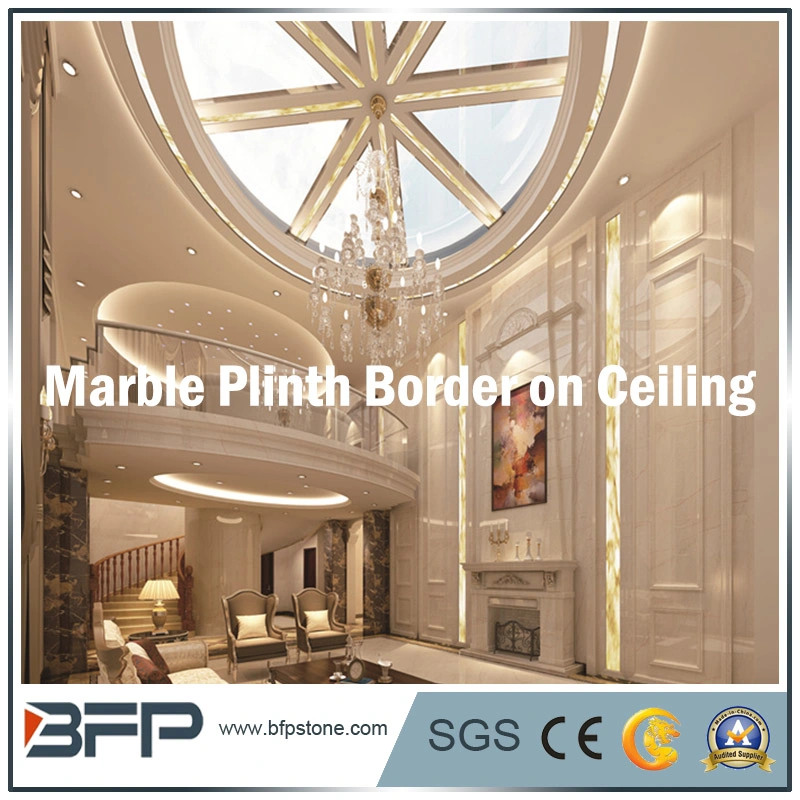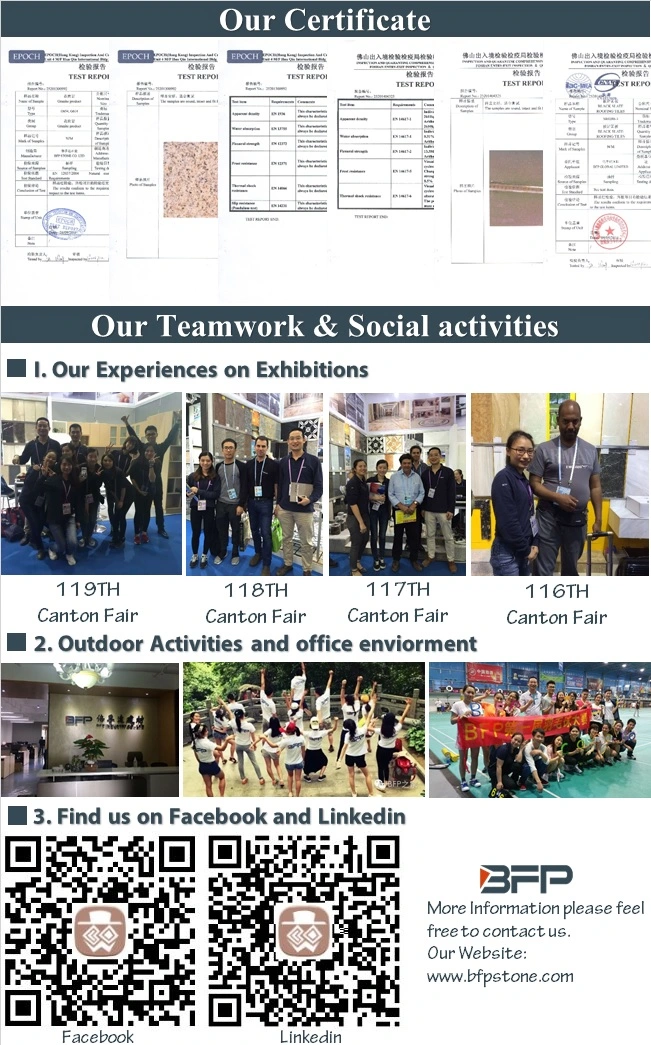 BFP will still keep on working hard to stay in the line of first-class products and service provider in construction and decoration field.
If you have any pending questions about stone decorations, pls kindly free to contact us, you will be received a warmly and timely response! We will also provide you the biggest support and the best price.
With us, benefit more
You can kindly know more about us as below:
http://bfpstone.en.made-in-china.com
http://bfpstone.en.made-in-china.com
http://bfpstone.en.made-in-china.com