75mm Concrete Board Wall EPS Cement Sandwich Wall Panels For Internal External Wall
*Please contact us for Catalogue, Free Samples, Installation Video, Project Case and more information!
Introduction of EPS Cement Sandwich Wall Panels
ZJT Light Composite Energy-saving Sandwich Wall Panel is composed of face panel and interior filling. The material of face panel is thin calcium silicate board and the middle is filled with lightweight composite core material, including cement, EPS, fly ash and ect. The quality and technology of product have reached to a new level and become the leading brand among the similar products.
The product has solid, lightweight, thin, better strength, impact resistance, strong hanging strength, heat insulation, sound insulation, fireproof, waterproof, easy cutting, increasing available space. It can be arbitrary slotting, dry operation, environment protection. Which achieve energy conservation and energy efficiency. At the same time,this reduces the total area to be occupied by the wall and to raise residential practical area, alleviates the structure load, improves the building aseismatic capacity and safety performance, and reduce total cost. This production technology and application is the reform of our country wall material, is a new breakthrough.
The company relying on advanced equipment, first-class technology, excellent quality, strong, productivity, favorable customer service system, has set up the good brand image in the market, and been widely recognized by the same.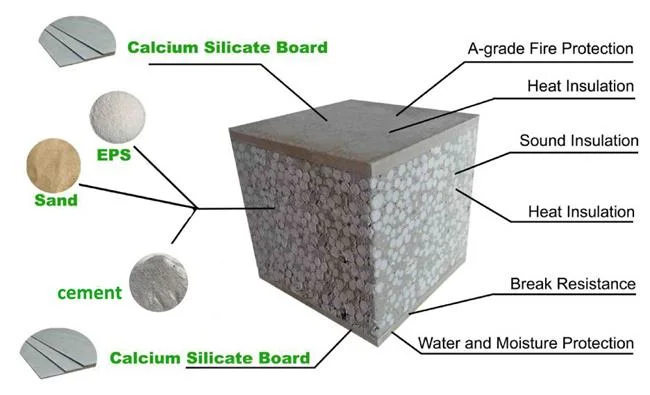 Features of EPS Cement Sandwich Wall Panels
1. Heat Preservation: Major material is anti freezing, heat preserving and environmental friendly.
2. Heat Insulation: Adjust the indoor temperature at a constant range.
3. Fire Proof: 5mm calcium silicate board is fireproof, Eps Cement sandwich panel can be against high temperature for 4 hours.
4. Water Proof: Experiment has proved that water pool can be made by Eps cement sandwich panel without absorbing any water and no leakage at all after one year.
5. Sound Insulation: The inside of wall panel material (EPS polystyrene grain) has fine sound insulation and sound absorbing function.
6. Easy to Install: Using our installation material (PU foam and Cement Adhesive) is easy to build house.
7. Labor Cost Saving: As wall panel is easy and fast to construct, the labors can be cut down in the same work and time.
8. High Intension: Eps Cement sandwich wall panel can be nailed directly or hang heavies, it can be decorated by ceramic tile, wall paper and any decorations you like.
9. Earthquake Resistance: The quake proof performance of Eps cement sandwich wall panel is more than 7.5.
10. Space and cost Saving: 60 to 150mm,which is more thinner than the traditional block, so it can save a lot of construction space. Meanwhile, the construct cost can also be saved instead of using the traditional blocks.
Usage of EPS Cement Sandwich Wall Panels
1. Partition, indoor wall, outdoor wall of non load bearing wall
2. The renovation of the old buildings
3. Other condition which have strong requirements of the moisture proof, waterproof, fireproof, sound insulation.
Length
(mm)

Width
(mm)

Thickness
(mm)

Density
(kg/m2)

Application

Appearance



2270

2440

610

60

38±2%

Non-load bearing wall
of houses and buildings

With calcium silicate
board as face board,
Solid core

75

47±2%

90

56±2%

100

65±2%

120

74±2%

150

93±2%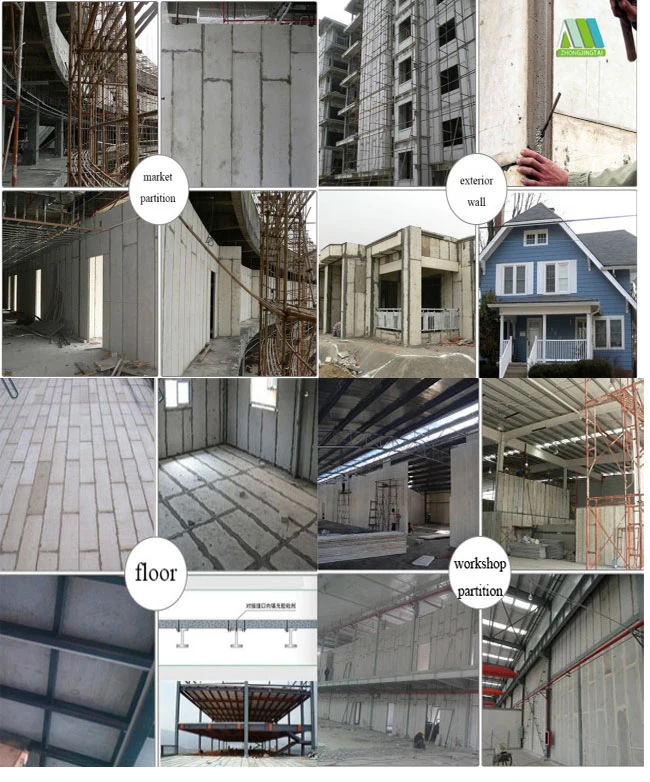 Technical Index of EPS Cement Sandwich Wall Panels
Boards: smooth, non-asbestos, calcium silicate boards , 5mm thickness each side
Core: lightweight core of portland cement and expanded polystyrene bead aggregates
Finishing: no need for plastering
Between panels: tongue and groove system using adhesive material
No Smoke emission, No Toxic gas distillation and No Water penetration
Strength: No cracking, No breakage
Weight : 67kg/m
Sound Isolation: 46 dB
Ultimate Wind Velocity: 324km/h
Fire resistance: 3 Hours
Axial Load Bearing: 14.7ton/panel
Bending load: 5.00 kN/m²
Thermal conductivity (k Value): 0.20W/M.C
Thermal Resistance (R Value): 0.50 M²K/W
(U Value): 2.0W/M²K
Contact Information
Freda Lin
Xiamen ZhongJingTai Building Materials Co,. Ltd
Website: http://zjteps.en.made-in-china.com
Tel:0086 136 6600 3756