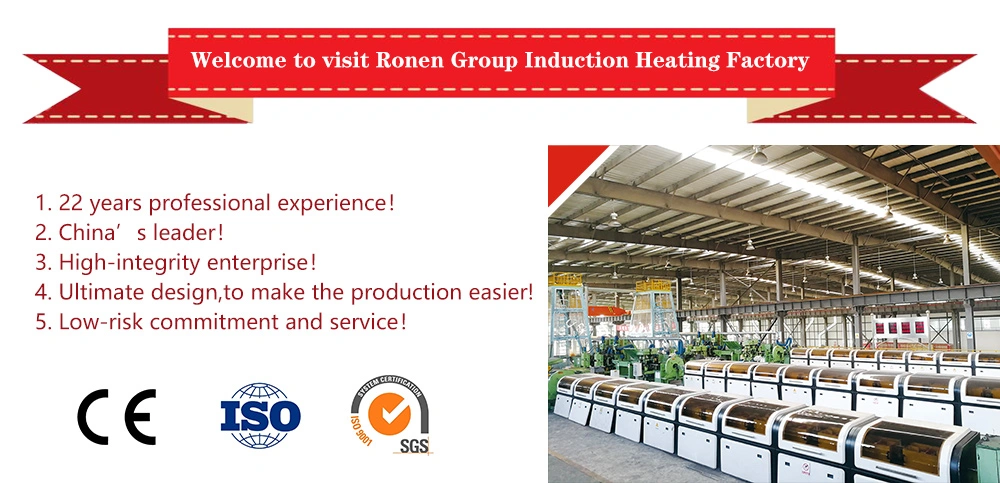 Welcome to visit Ronen Machinery which is a professional manufacturer of induction-Heating equipment . we have professional and experienced technology and management , focusing on power electronics technology research ,development and production , providing integrated solutions for customers of induction-Heating fields.
we have sevral production lines to choose
(1) PC steel bar production lines
(2) PC steel wire production lines
(3) PC strand production lines
(4) Spring wire production lines
(5) Rebar cold roling / tempering lines
(6) Angle steel cold rolling /annealing lines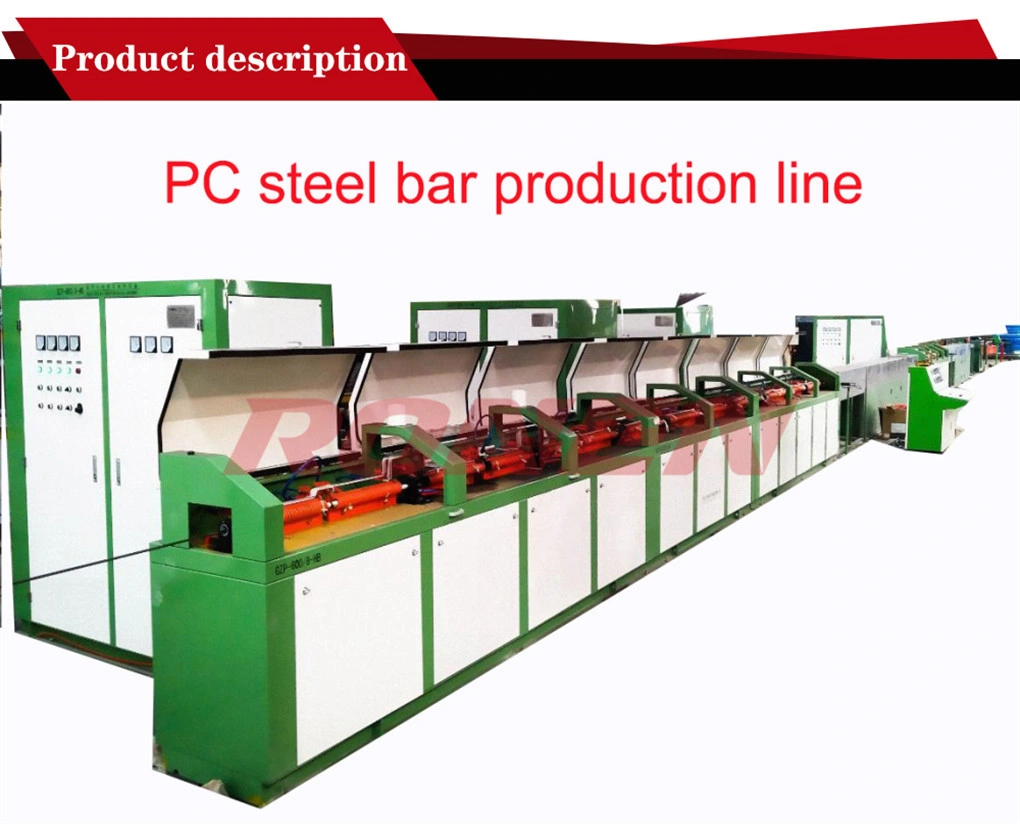 Application scope
PC steel bar has the features of high strength tenacity, low relaxation and good weldability, and widely used for tubular pile, viaduct pier, railway sleeper, etc.
Technical features
1) The complete production line is composed of preheating power supply unit, raising temperature power supply unit, quenching power supply unit and tempering power supply unit with reasonable configuration.
2) The complete production line adopts PLC+frequency variable control with high automation, can realize tension control, automatic feeding, automatic shearing and automatic take-up.
3) Optimal design of inductor, not only with high heating efficiency but also realize fast replace of indctor.
4) The four sets of induction heating power supply unit has features of tempeature tracking control, precise temperature control, fast heating speed and low electricity consumption.
5) Use aluminum material sealed cabinet to realize electromagnetic shielding and suitable for the bad environment at site.

Steel material:30MnSi
Product diameter:φ7.1~φ12.6mm, Standard: JIS G 3137
| | | | | |
| --- | --- | --- | --- | --- |
| Specifications | 7.1mm | 9.0mm | 10.7mm | 12.6mm |
| Line speed | 60-110m/min | 40-100m/min | 30-90m/min | 20-60m/min |
| Quenching temperature | 860ºC-960ºC | 860ºC-960ºC | 860ºC-960ºC | 860ºC-960ºC |
| Tempering temperature | 360ºC-460ºC | 360ºC-460ºC | 360ºC-460ºC | 360ºC-460ºC |
| Consumption per ton | ≤375kW.h/T | ≤370kW.h/T | ≤370kW.h/T | ≤370kW.h/T |
| Strength of Extansion | >1420MPa | >1420MPa | >1420MPa | >1420MPa |
| Yield strength | >1275N/mm2 | >1275N/mm2 | >1275N/mm2 | >1275N/mm2 |
| Elongation | >5% | >5% | >5% | >5% |
Running speed:
For makingφ7.1mm,Rated speed: 100m/min; Max. speed: 110 m/min(2.07t/h);
For makingφ9.0mm,Rated speed: 90m/min; Max. speed: 100m/min(3.01 t/h);
For makingφ10.7mm,Rated speed: 65m/min; Max. speed: 80m/min(3.18t/h);
For makingφ12.6mm,Rated speed: ≥40m/min;Max. speed: 50m/min(2.94t/h);
Heating temperature:
Max. Quenching temperature:950°C
Max.Tempering temperature:450°C
Electricity consumption/T: at the highest quench/temper temperature, diameter isφ9.0mm, the consumption is <390KW/h per ton.
Production line center level:1000mm
Equipment composition and Process flow:
On-line equipment:
Pay-off stand→Wire pack up device→Mechanical descaling→Bright die and Notching die→Drawing→Straightening→1#Traction machine→Pre-heating power supply(600kW/8kHz IGBT Intermediate frequency induction heating power supply)→Temperature raising power supply(200kW/30kHz IGBT Superaudio induction heating power supply)→ Temperature raising power supply(200kW/50kHz IGBT Superaudio induction heating power supply)+Quenching/Holding→Quenching water tank →Temper power supply(300kW/8kHz IGBT Intermediate frequency induction heating power supply)+Temper and holding pipe→Temper water tank→2#Traction machine→Wire leading tank→Hydraulic shearing/reverse machine→Take up coil 1→Take up coil 2
Auxiliary equipments:
Cooling tower/Air compressor/Heat exchanger/Water pump/Control cabinet/Technics testing machine/Butt welding machine/Pointing machine/Packing machine/Electronic scale/Crane/Testing machine, etc
2. Main Technical Parameter
2.1 Material of PC steel bar: 30MnSi
2.2 Range of wire diameter: Φ7.1-Φ12.6 mm
2.3 Productivity: 2.6Ton/hr(calculated against φ9)
2.4 Quenching temperature: 850 - 920ºC(Stepless regulation)
2.5 Tempering temperature: 380 - 500ºC(Stepless regulation)
2.6 Tolerance of output power ≤1%
2.7 Line speed: 90m/min (calculated against φ9)
2.8 Power capacity of line: 1250KVA , power consumption: <380 kwh /ton
2.9 Center elevation: 1000mm
2.10 Character of PC wire: intensity: 1420Mpa, Elongation ≥8%, good straight
2.11 Appearance of equipment: Blue painting (Or client request)
Electrical Control:
Electrical appliance introduction
IGBT Induction heating power supply feature
1. Main elements are Germany SIEMENS 400A/1200V big power IGBT consist parallel circle, have a good capability of frequency automatic tracking
2. Voltage/Current double closed circuit control, this mode has constant voltage operation feature, it means the voltage of inductors will not be influenced by Inlet voltage/Load resistor, etc. Constant voltage make the load heating most stable
3. Adopt the most advanced control technology in the world. By a intelligent programming device CPLD, make IGBT induction heating power supply has the function of Fixed-angle&Phase locking/Frequency automatic tracking, etc. This design can improve the stability and efficiency. Because the machine has protect function of Over-frequency or Low-frequency unlock, it can accurately protect wire heating inductors from short circuit and open circuit fault
4. Inverter circuit has function of Fixing angle/ Frequency tracking and control. When the operation condition is changing, the phase angle of inverter will not change, it has wide frequency suitable range
5. Frequency sweep method: High accuracy of phase locking frequency, small attack. Start success ratio is 100%. Power regulating range: 10%-100%
6. IGBT Induction heating device has wide application in heating treatment
.