acoustic panel cheap sound absorbing board polyester
Are you still waiting for more than half a year before you can move inside to your new house?
Are you still working in dirty and wet construction site, moving many heavy machines to the site?
Are you still paying high salary to the workers and still unhappy about the final work?
Are you still...?
You are so lucky to be here and get to know the best substitute to traditional wall materials. It is called eps cement sandwich wall panel. Compared with other wall materials, it's stronger and longer in life span and contains many advantages and wide usages.
1.What is the EPS Sandwich Cement Wall Panel ?
ZJT lightweight energy saving composite eps sandwich cement wall panel is a new type wall panel insteading of the traditional bricks with the advanced production technology and following the mordern construction criteria. It is composed of the face panel and the interior fillings. The material of face panel is calcium silicate board(firber cement board) and the core materials are sand,cement,eps foam,water ann fly ash.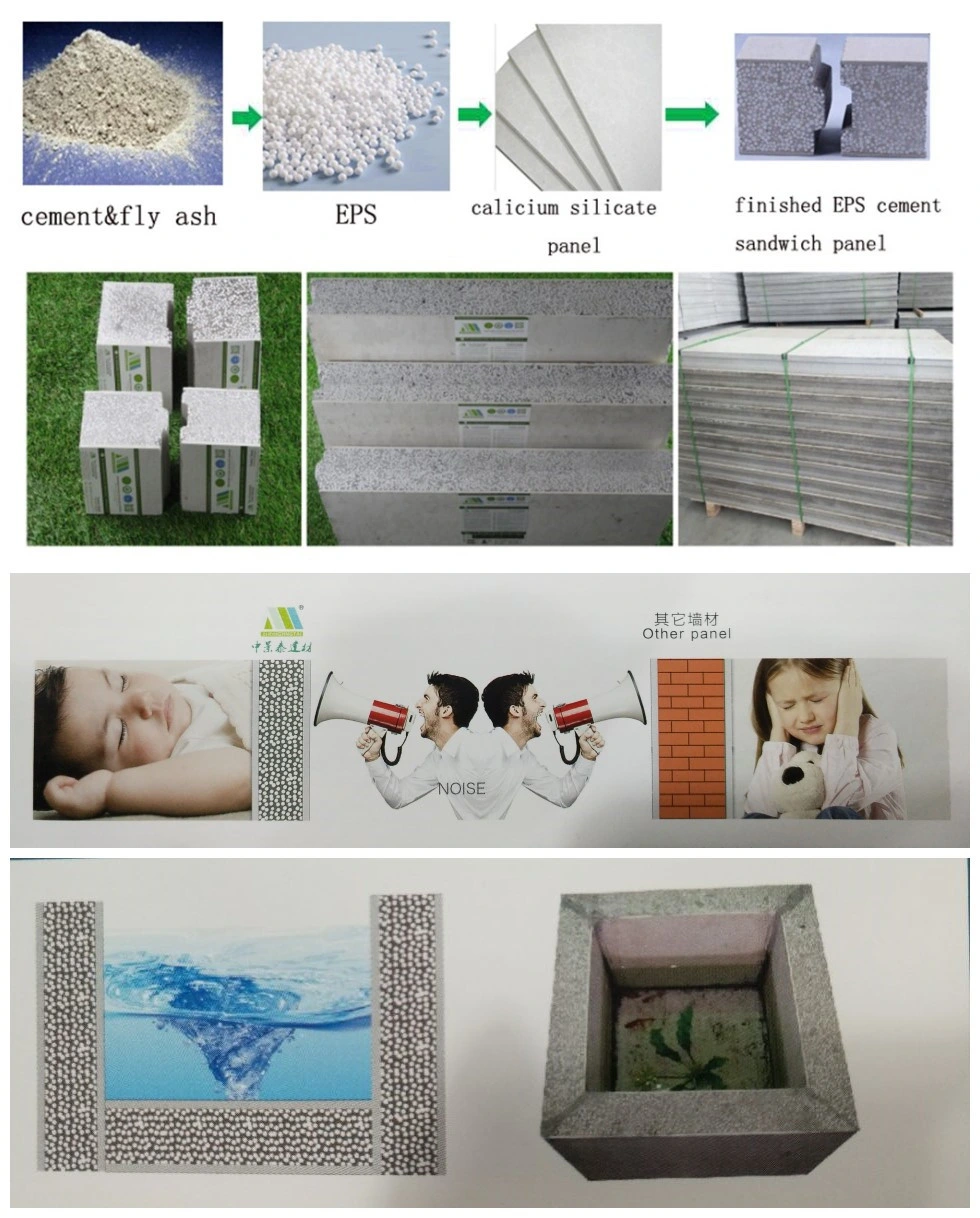 2.
Parameter Index
Item

Parameter Index Specifications

60mm

75mm

90mm

100mm

120mm

150mm

1

Anti-impact capacity/times

≥5

≥5

≥5

≥5

≥5

≥5

2

Anti-bending damage load/times over deadweight

≥3.0

≥3.0

≥3.0

≥3.0

≥3.0

≥3.0

3

Compressive strength/Mpa

≥3.5

≥3.5

≥3.5

≥3.5

≥3.5

≥3.5

4

Softening coefficient

≥0.8

≥0.8

≥0.8

≥0.8

≥0.8

≥0.8

5

Surface density(kg/m³)

≤70

≤70

≤90

≤90

≤110

≤110

6

Moisture rate(%)

≤10

≤10

≤10

≤10

≤8

≤8

7

Dring shrinkage value(mm/m)

≤0.5

≤0.5

≤0.5

≤0.5

≤0.5

≤0.5

8

Hang force(N)

≥1000

≥1000

≥1000

≥1000

≥1000

≥1000

9

Sound insulation capacity in the air(dB)

≥35

≥35

≥40

≥40

≥45

≥50

10

Fire endurance(h)

≥1.5

≥1.5

≥2.5

≥2.5

≥3.0

≥4.5

11

Heat transfer coefficient(w/m2/k)

≤2.0

≤2.0

≤2.0

≤2.0

≤2.0

≤2.0

12

Inner radiation index

≤1

≤1

≤1

≤1

≤1

≤1

13

Outer radiation index

≤1

≤1

≤1

≤1

≤1

≤1

14

Frost resistance(shall show no visible cracks and surface without change)

--

--

shall show no visible cracks and surface without change

15

The combustion properties(A1 or A2)

--

--

A1 or A2

16

Acoustic performance
- 60 mm thick
- 75 mm thick
- 100 mm thick
- 120 mm thick
- 150 mm thick

38 dB
40 dB
42 dB
44 dB
46 dB
3.Sizes of our sandwich cement wall panel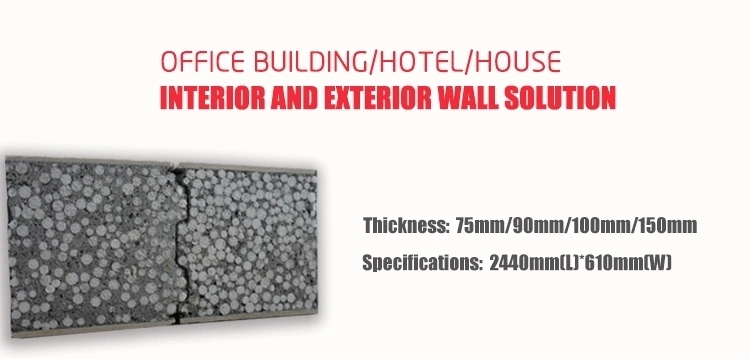 SIZE
Width
:610mm
Length
:2270/2440mm
Thickness
: 60/75/90/100/120/150mm
USAGE





60mm could be applied to

roof


75/90/100mm are recommended to

intenal/partition wall


120/150mm are recommended to

external wall


120mm could also be used to

floor

It is also depended on the requirement of clients.
4.Advantages
1).Heat Insulation and Preservation
The major material is polystyrene grains and other anti-freezing and heat preserving environmental protection materials, which can adjust the indoor temperature at a constant range to achieve the effects of ecological adjustment.
2).Waterproof and Fireproof
The face panel of energy-saving boards on both side are 5mm calcium silicate fireproof board and the main materials are the mixture of cement, sand, fly ash, etc.It does well in the fireproof and waterptoof.
3).Sound Insulation and Absorption
The inside construction material (EPS polystyrene grain) functions well in sound insulation and sound-absorbing.
4).Easy Construction and Time Saving
For the same construction work that takes 12 people and 60 minuses to complete with traditional blocks, only 3 people and 60 minutes will do with boards, thus it can save a lot of labor and time cost for the construction part.
5).High Intensity and Quake Proof
The energy saving boards are all with high intensity and the earthquake resistance can reach 8.5 magnitudes.
6).Space and Cost Saving
For its thickness and lightweight features, the building area is largely increased and saves the cost construction structure a lot.
7).High Recycled Ultilization Ratio
The panel is solid and strong physical performance,anti-corrosion,high strength and low damage rate.If ZJT's dry splicing method was put to use ,wall panel reuse rate would up 93%which can save 71%~95% of wall panel cost.
8).Strong Hanging Force and can be Slotted
ZJT panel can meet various of demands and can be easily slotted to bury pipes and electric wires and also will reduce dust and increase the operation environment quality.
5.Applications
Lightweight fireproof partition panels can be customized in lengthis mainly for interior and exterior non-bearing wall partition.
1. General industrial buildings, high building, KTV
2.Industrial:buildings:factory,wall,partitions,school dividingwall
3. Commercial:buildings:shopping mall,KTV,highoffice building partitions
4. Residentialhouses:low rise&high-rise
5.Government housing project,prefab house
6.Fire-rated wall partitions1-4hours
7. Residential buildings
8.Single house
9. Public construction, hotels, hospitals, schools
10. The fence of the factory
11. Kitchen, bathroom, and the toilet of indoor wall.
12. Also can paste on tiles and cement mortar.
Floor&Roof
ZJT light weight composite sandwich wall panel can be innovatively used as floor and roof .This system has the outstanding hight load-bearing capacity, anti-static electricity, friction resistance, high strength, convenient for wire groove and water pipe inbuilt, corrosion resistance, no deformation, no split, etc., which is much suitable for the fields including the floor plate of additional top floor, factory, workshop, warehouse, etc.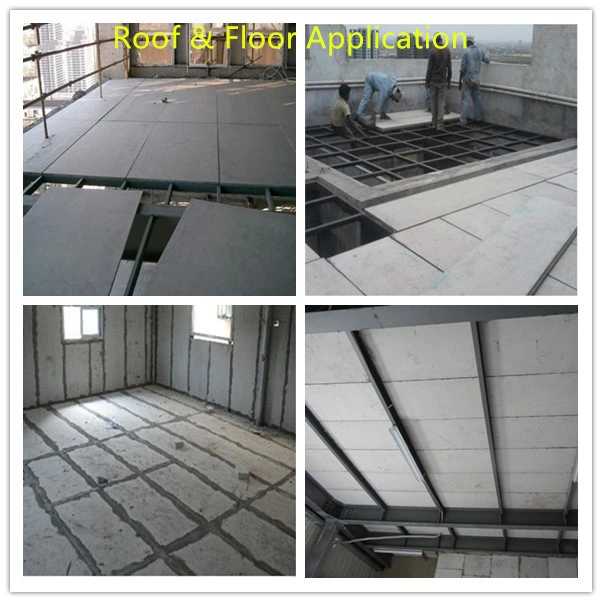 Internal&Partition Wall
Light weight compound sandwich panel can automatically adjust indoor air and water content with the season and climate changes, and such ecology effect just goes with the tide of modern residential building.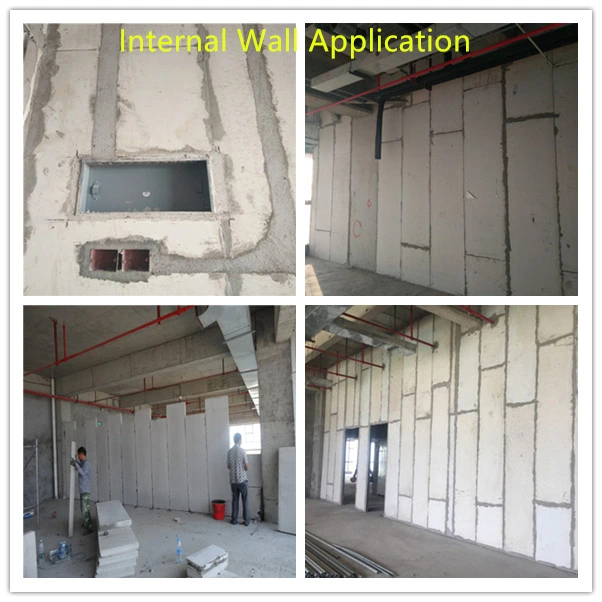 External Wall
External Wall Light weight compound sandwich board have been widely applied to the special positions with the steel structure, like partition panel of high-rise and mega-high-rise buildings
.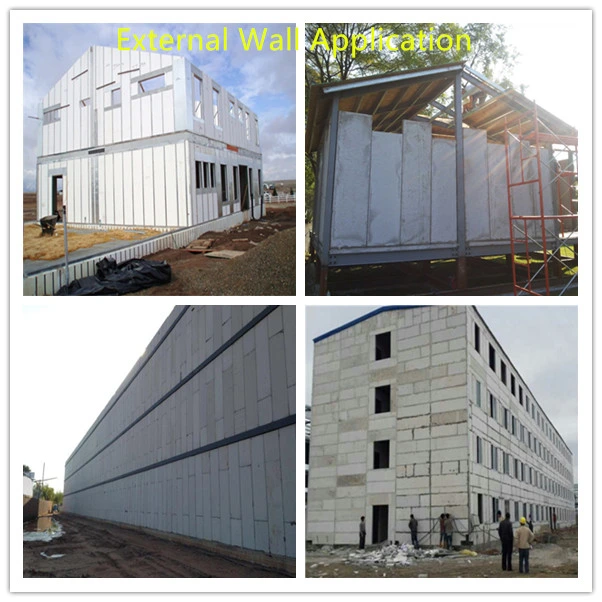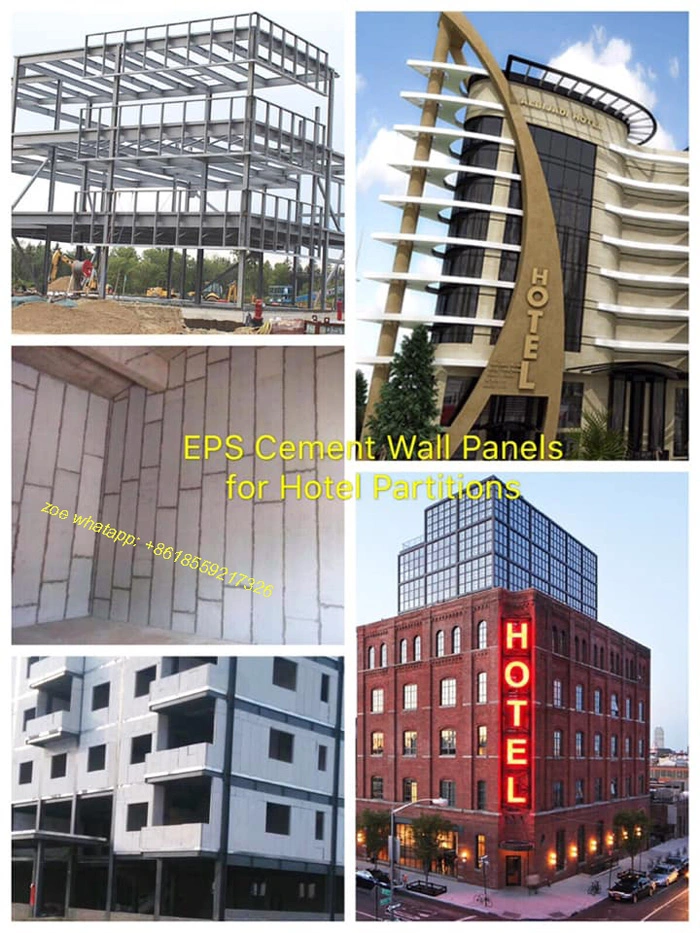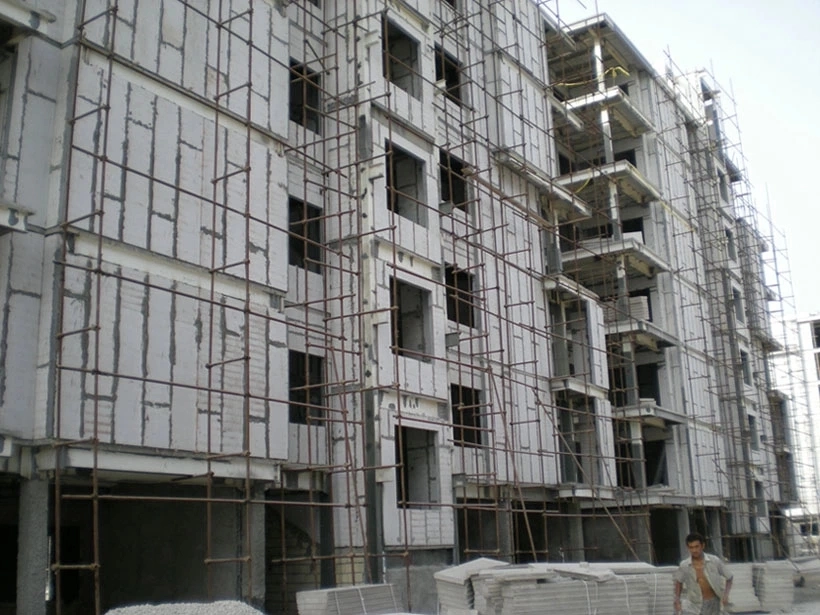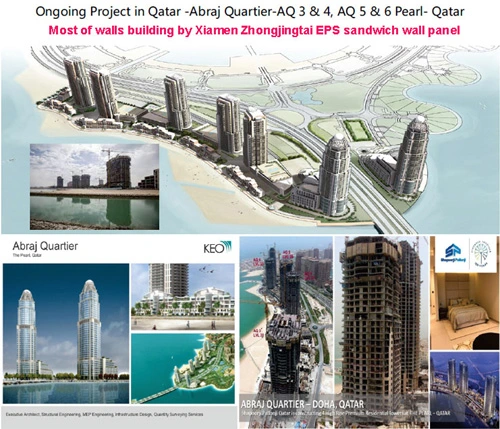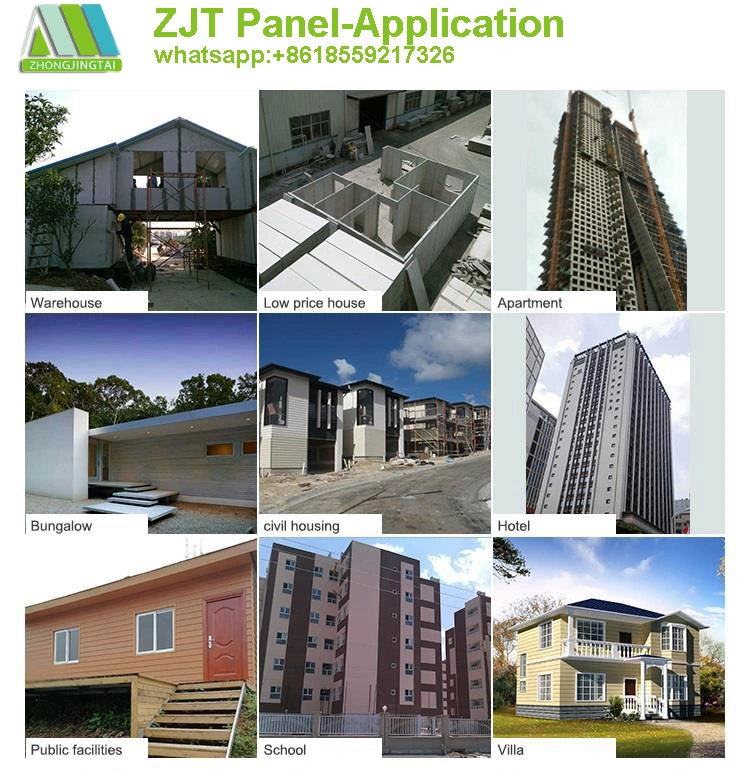 6.The Installation Steps
Alignment:making the base line of the installation position of the wallboard.
↓
Sawing of wallboard:cutting and adjusting the width and length of wallboard on the basis of the requirement.
↓
Sizing: blending the ZJT cement mortar and plastering it into the gap and base line bettwen the wallboard.
↓
Fitting the sheet: moving the mortar-covered wallboard to the right position and using crowbar to ensure the wallboard are tight with another one.
↓
Placing the wallboard: filling the vacant position of the wall
↓
Adjustment: fixing the wallboard with wooden wedge, spiking steel bar into the glued wallboard an two steel bars should be spiked beyong 120mm wall board.
↓
Filling joints: clear away the facial panel cement mortar and press it tightly with round steel bar.
↓
Installation of crack-resistant material: after about one week, taking out the wooden wedges and paste the anti-crack tape with cement mortar.
↓
Insertion of wires: do not dig the same place in the two wallboard facial and the deep can't beyond 2/3 of the wallboard.
↓
Plastering paint: to finish the wal, tiles can be paste without any scraping and wallpaper also can be applied directly.
7.Packing Details
1) Free packing :normal pallet + packing belt
2) Standard exporting packing, good pallet+pearl wool+corner protective paper+packing belt+plastic thin film
3) Loading:Normally 18 pallets per 20' container or according to clients' requirements

Items(mm)
Single(piece)
Load by 20'GP
Load by 40'GP
m³
Kg/pcs
Kg/m

2

Qty(pcs)
m

2

Tons
Qty(pcs)
m

2

Tons

2270×610×60

0.08

47

34

313

433

15

525

727

26

2270×610×75

0.10

67

48

252

349

17

364

504

26

2270×610×90

0.12

77

56

207

287

16

322

446

26

2270×610×100

0.14

87

63

189

262

18

280

388

26

2270×610×120

0.17

98

71

162

224

16

252

349

26

2270×610×150

0.21

147

106

126

174

18

147

204

26

2270×610×60

0.09

60

40

240

357

15

420

625

26

2270×610×75

0.11

80

54

204

304

17

308

458

26

2270×610×90

0.13

90

60

168

250

16

336

500

26

2270×610×100

0.15

100

67

144

214

15

240

357

26

2270×610×120

0.18

110

74

108

161

12

216

321

26

2270×610×150

0.22

160

107

78

116

16

156

232

26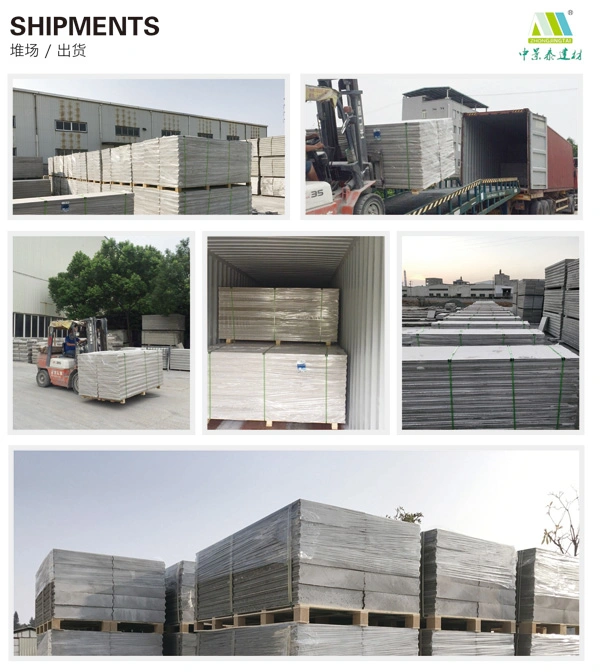 8. FAQ
1. What is your mainly products?
Our mainly products are sandwich wall panel and color steel panel .

2. What is your delivery time?
One 20'GP container, about 10 working days.

3. How about the samples?
The samples is free, but the delivery cost will be on ur account, and we will deduct it after you place the order.

4. What is your time of making samples?
Usually we will take 1~3 days to make the sample.

5. What is your payment terms?
Normally we accept 30% T/T in advance,70% after shipment. Or Irrevocable L/C.
6. What is the shipping port?
Xiamen port.
9.Our Company
Xiamen ZhongJingtai Building Materials Co., Ltd, a professional high-tech research and development company specializes in producing new energy-saving wall materials, machinery and equipment development, technology production and promotion of product applications. Our company is situated in the charming city---Xiamen, with convenience of water and land transportation and only 15 minutes from the airport. We focus on persuing to the environmental and energy-saving modern wall materials and also positively respond to the national policy on wall reforming. We have developed successfully wall panels that meet the energy saving needs of modern architecture. In addition, We can produce more than 2 million square meters of various wall materials annually. Quality fisrt, honesty and win-win cooperation are our management ideas.
Our company relying on the advanced equipment, first-class technology, excellent quality, strong productivity, favorable customer service system, has set up the good brand image in the market and been widely recognized by many other countries.If applied it on your buildings, it will improve your work effeciency, promote your work environment, save your work time, save your living space and be convenient for the late maintenance.
We have been taking part in the trade shows in home and abroad and getting more cooperations and recognizations with foreign customers.
We adhere to the Concept--first-rate service,quality first and win-win cooperation.
We have exported to many places around the world, such as, Saudi, Philippine,Jordan,Dubai,Australia,Canada,Q
a
tar.Our clients are speak for us.
Our clients will be the spokesperson for our
spokesman .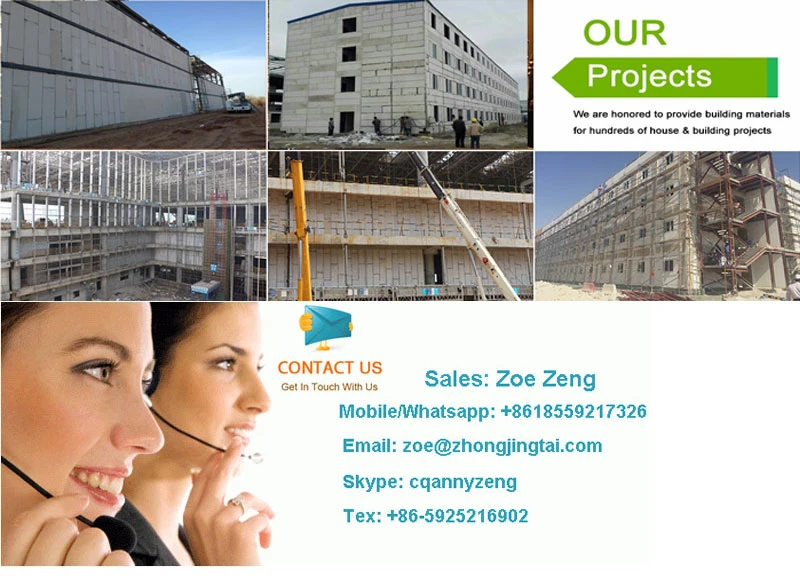 11.Contact Us
zoe zeng
Tel: 0086-592-5216902
Fax: 0086-592-5216317

Website: http://zjteps.en.made-in-china.com

Company Address: Xiamen ZhongJingTai Building Materials CO., Ltd.
Unit 2A, Lianchang Building, No 6-8Huli District,Xiamen, China.