Toughened Glass glass Curtain Wall Aluminum Curtain Wall
Main Features of Full-glass Curtain Wall:
1. Full-glass curtain wall is fully transparent and all-in-view, and pursues exchange and integration between the inner and outer spaces. People could clearly see the whole structural system of the glass, so as to turn the structural system from supporting role to performance visibility and to demonstrate a sense of architectural aesthetics, type, hierarchy and space impression.
2. The system is light in weight, and features simple selection of material, processing in factories, fast construction and convenient maintenance. Also, it's easy to clean.
3. For the effect of enriching architectural elevation, this system is unparalleled, and is a perfect embodiment of the modern science and technology in the building decoration.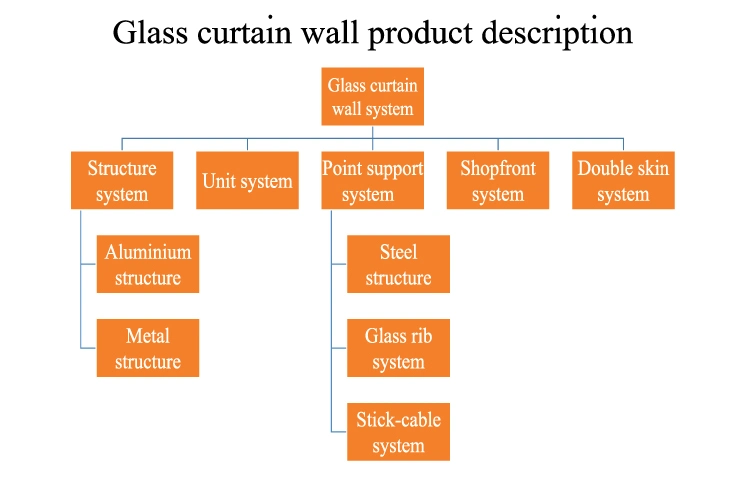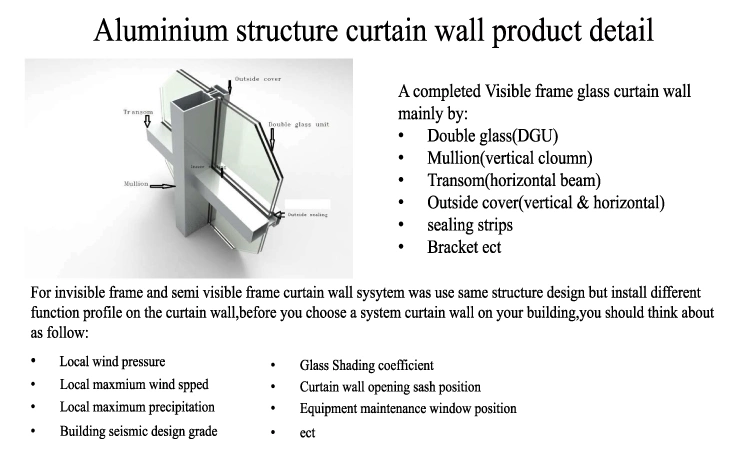 Aluminum frame glass Curtain Wall

Aluminum frame,glass,accessories

a:Alloy:aluminum

b.Thinckness:110mm/120mm/130mm/140mm/150mm

c.Color:any color

d.Finished:Anodized/Powder coating/Electrophoresis

a: Single Glass:5mm-12mm.

Double Glass:5mm+9A+5mm/6mm+9A+6mm/or the others

Laminated Glass:5mm+0.38pvb+5mm/6mm+0.76pvb+6mm/or the others

b:Color:Tinted(Grey/Green/Blue/Tea/or the others) or clear

c:Special:Low-E Glass/Reflected Glass/Tempered Glass/Float Glass/Art Glass

Design And Fabricate According to Customer's detail requirement.

Professional design,High-quality fabrication and experienced installation

within 45 days after confirming the shop drawing.
Glass Curtain Wall System:
• Frame Supported Glass Curtain Wall
• Unitized Glass Curtain Wall
• Point Supported Curtain Wall
• Full Glass Curtain Wall
• Double Skin Glass Curtain Wall
• Photovoltaic Curtain Wall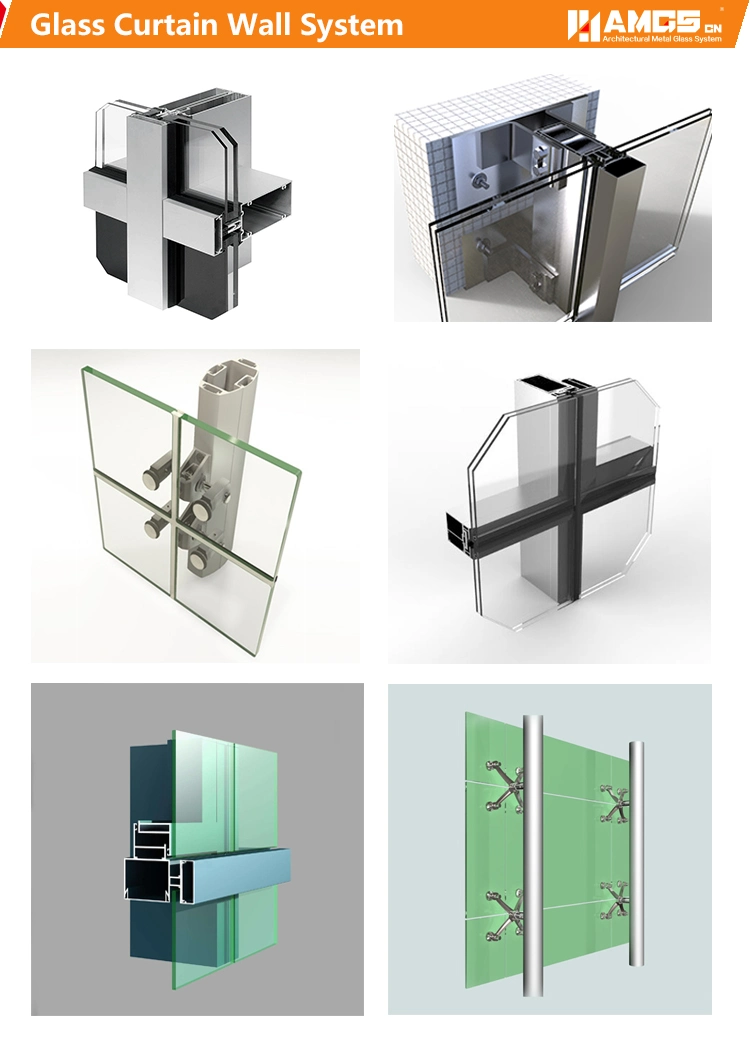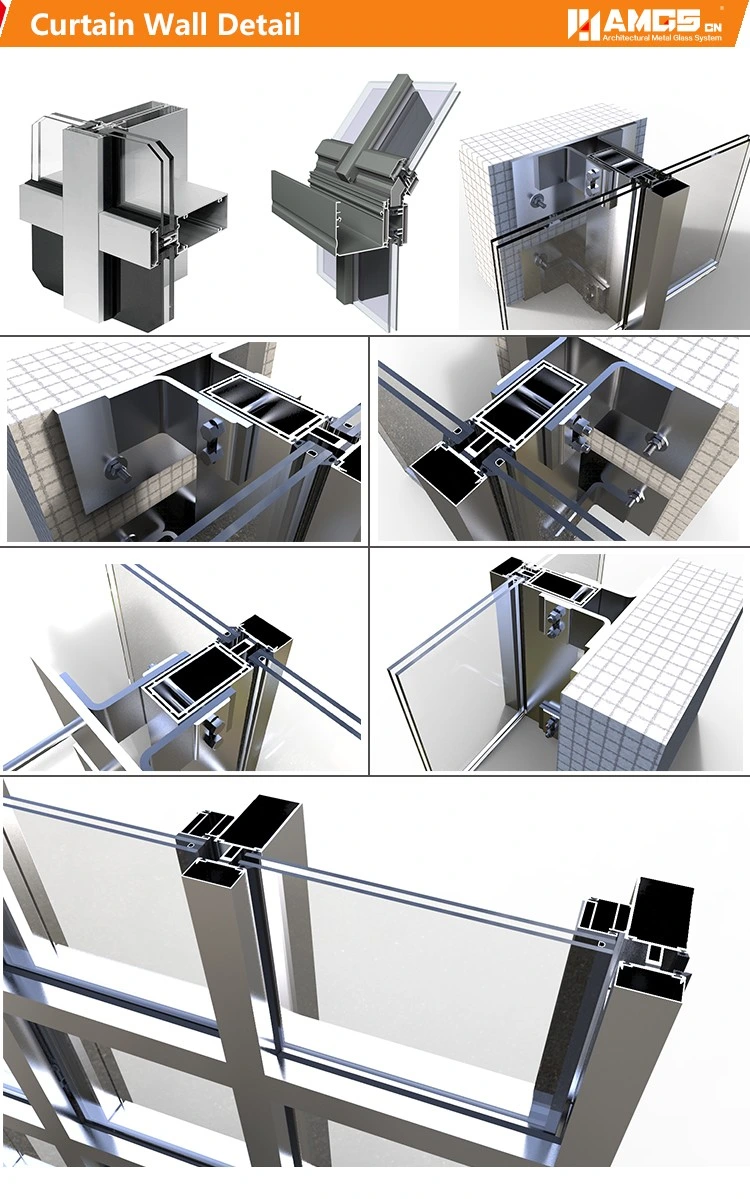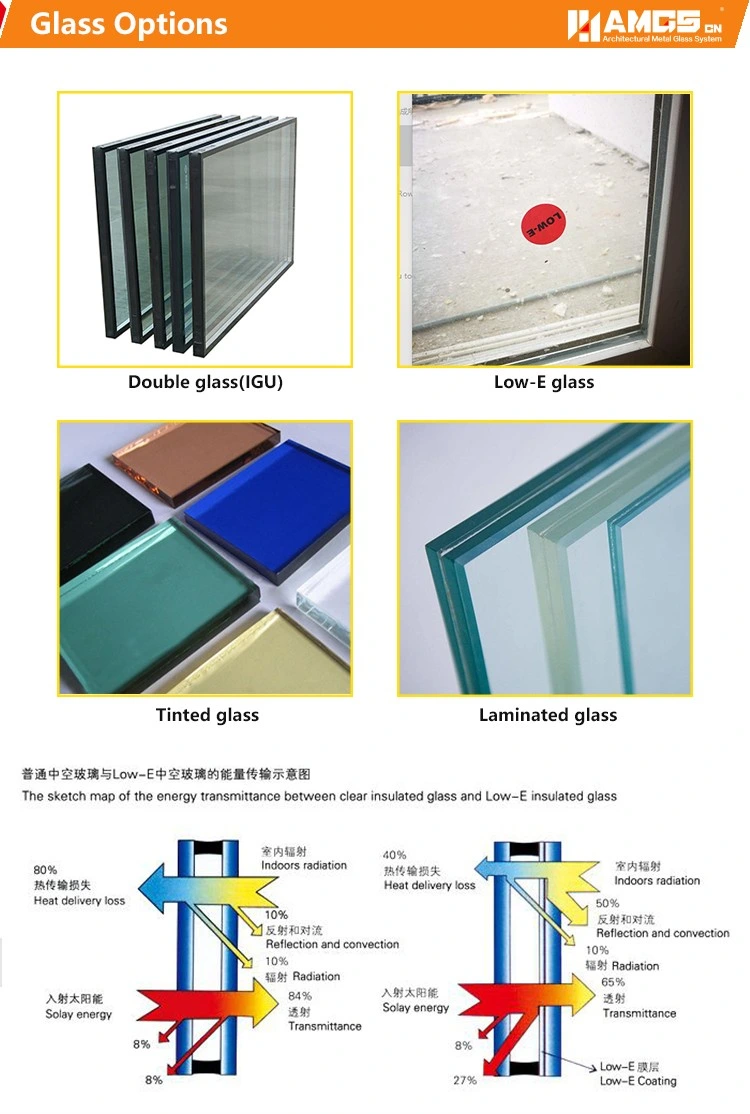 Our Services
One Stop Solution Services:
Different Country has different climatic characters, We provide professional solutions on Doors & windows Profiles surface treatments and glazing to meet its diversity, it concerns the longevity of windows or doors, and each function of energy absorbing & saving.
AMGS also provide one stop solution service for your project, like the profiles Design, the wind resistance, water proof,Sound proof, energy rating testing, Installation..
In additional, We Provide one stopservice for showerscreen, balustrade, pool fencing, ect other building materilas to save your labour, money and time.

Packaging & Shipping
1.Protective tape protects products around ;
2.Use corner protection to protect products coner;
3.Keep windows or doors fixed on Wood case;
4.Tie up windows or doors with wood block;
5.PE films to keep away from sea water;
6.Tie up whole wood case with Iron straps.
Our packages will ensure the windows and doors arrive at project jobsite in good conditions..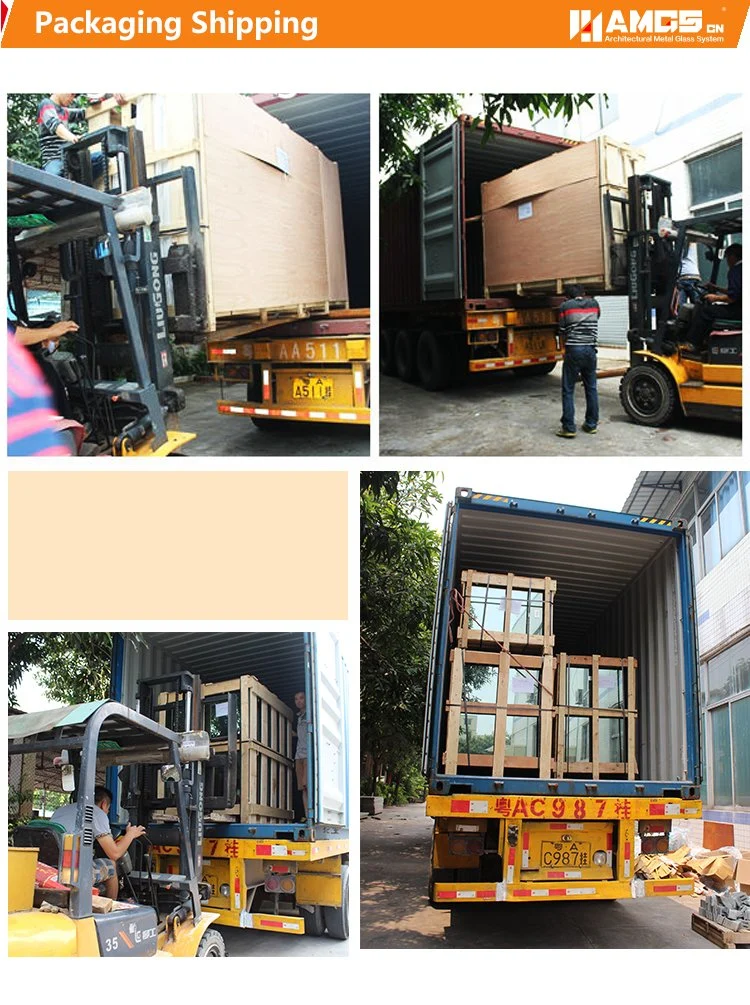 modern tempered glass invisible curtain wall




The feature of rnitized curtain wall


1


A unitized curtain wall is another type of frame-supporting curtain wall consisting of framing components and panel materials. Such framing components and panel materials are assembled into a single curtain wal l unit at our production base. The curtain wall units are then transported to construction sites for installation. The panels can be made of various materials, including glass, metal, stone, and artificial materials.


2


The unitized curtain wall means that the unitized panel is assembled by various components of curtain wal l (including sheet, supporting frame, etc.) in factory, and delivered to site for the purpose of integral hanging installation, and fixed on the main structure by embedded connective system.


The unitized curtain wall has a lot of outstanding advantages


1


The integral hanging installation is adopted for unitized panel, to achieve fast installation and short site construction period.


2


The fact that it can be constructed synchronously with the main structure and that vertical cross work is allowed, makes for shortening the construction period of the building.


3


As the unitized panel is of high bunch production and, its assembly being completed in factory, high assembly precision, the quality is easy to be controlled.


4


Inlaying method is used for connection among unitized panels. Meanwhile, it has a powerful absorbing capacity for temperature deformation, displacement between stories, seismic deformation, etc.


5


Inlaying method is used for connection among unitized panels, which ensures a high degree of accuracy for installation and positioning as well as high degree of facade flatness.


6


The structural sealing method is adopted among unitized panels, and the traditional jointing sealing sealant has already been replaced by sealing sealant strip, which ensures not only sealing property but also an effective decrease on pollution level on the surface of curtain wall, nice appearance and neatness, with improvement of decorative effect


Profile


Aluminum Alloy:


6063-T5 thermal-break and non-thermal-break can be chose.


Thickness:


1.4mm-2.0mm profile thickness.


Surface Treatment:


Customized ( Powder coating/ Electrophoresis/ Anodizing etc).


Color:


Customized (White, black, silver etc any color is available by INTERPON or COLOR BOND).


Glass


Type:


Customized (Tempered Glass/ Laminated Glass/ LOW-E Glass/ Tint Glass etc...)


Thickness:


Customized (Single: 5/6/8/10mm..., Double: 5+9+5mm/6+9+6mm/5+0.76+5mm etc...)


Color:


Customized (Clear, Obscure, Green, Gray etc...)


Hardware:


Brand:


China , Germany , Australia and Italy top brand .


Color:


White, Black, Silver.


Sealant:


EPDM, and USA glass silicon can be choices.


Other Parts Can Be Added :


Grid.


Packing :


Iron pallet + film outside to keep clean, and loading with air bag to fix the container space.