Eco friendly labor saving fireproof sandwich panel foam cement eps board
The light weight compound sandwich panel is a kind of light weight energy saving compound board,takingfiber reinforced calcium silicate board, mgo board or cement calcium board as surface panel,with cement, EPS, fly ash as fillers and compounded at one time. The product can replace construciton materials like red brick, clay solid brick, air brick, color-coated steel sandwich board, gypsum block;wire spatial grid structure perlite board,perlite porous board etc. It can be widelyapplied to various high and low buildings such as: bank,office building,hospital, school,hotel, shopping mall,amusement hall,portable dwellings,old house reconstruction,family house and workshop.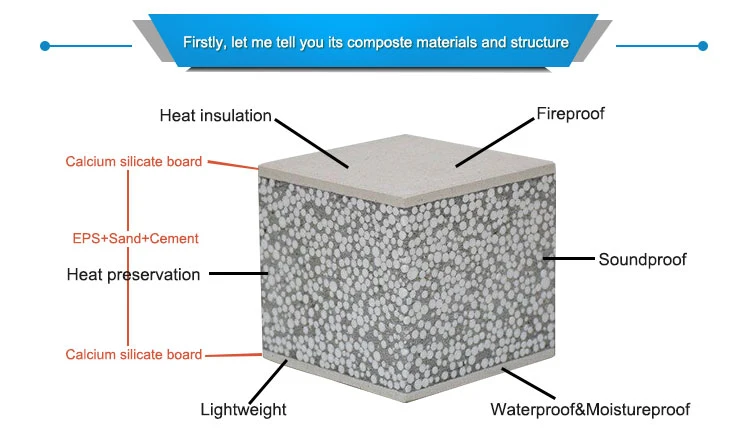 Wall pane features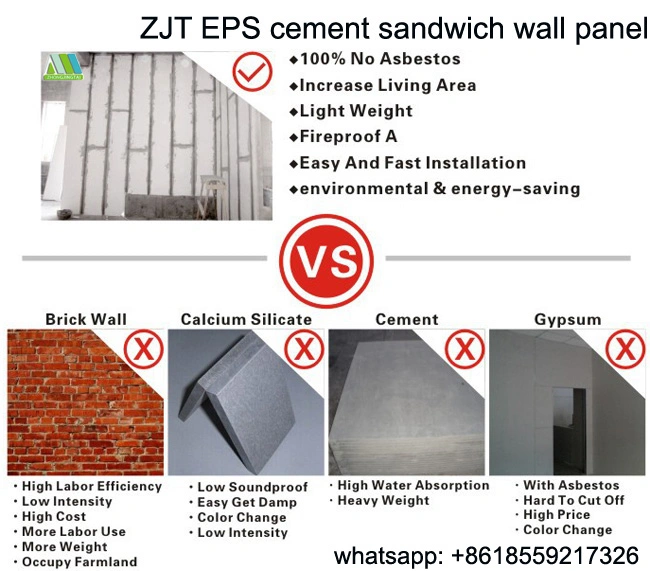 1. Light weight:
Its weight is only 1/7 of that of brick walls, 1/3 of that of aerated concrete, and 1/8 of that of 120mm thick masonry wall with plastering on both sides.

2. Fireproof:
It can endure fire at 1000 degrees for over 4 hours, without producing any toxic gas. Its incombustibility meets a rating of the state standard.

3. Waterproof & dampproof
It consists of medium density fiber cement flat board, which has very good water proof and damp proof property. Therefore, there is no worry about bulking, efflorescence, deformation, degeneration of strength due to moisture absorption. It's applicable for wet areas like kitchens, bathrooms and basements.

4. Sound Insulation
It has outstanding sound absorption and insulation capacity. The sound insulation capacity of a 90mm thick board is 42dB, which is far higher than that of other masonry walls, and meet the national requirement of sound insulation for residential houses.
5. Thermal Insulation & Heat Insulation
Nowadays, the construction industry attaches great importance to energy-saving property of buildings. Ionic strip-type wall panel is made of pure natural vermiculite, quartz flour of high purity, inorganic fiber and plant fiber, through a curing process with steam of high temperature and high pressure. In addition, the internal alveolate structure also contributes to its remarkable thermal insulation & heat insulation property.

6. Better earthquake resistance and overall stability:
Assembled into a whole structure, wall panel has an impact resistant capacity which is 1.5 times as high as that of normal masonry walls. The earthquake resistance is tens of times higher than normal masonry walls, meeting the requirement for buildings to resist earthquake of up to 8 degrees.
7. Easy installation:
The wall panel can be grooved freely, nailed directly or embedded with expansion bolts to hang heavy things, like A/C; The single-point hanging strength is over 45kg; In addition, the wall panel has a flat and smooth surface, which is compatible with tiles and wall paper as the finish.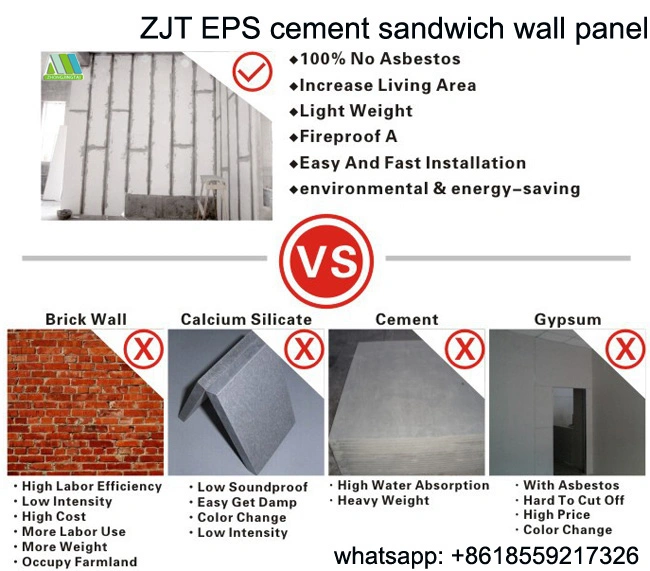 Parameter/Index/Specifications.
Item
Parameter Index Specifications
60mm
75mm
90mm
100mm
120mm
150mm
180mm
1
Anti-impact capacity/times
≥5
≥5
≥5
≥5
≥5
≥5
≥5
2
Anti-bending damage load/times over deadweight
≥3.0
≥3.0
≥3.0
≥3.0
≥5.0
≥5.0
≥7.0
3
Compressive strength/Mpa
≥3.5
≥3.5
≥3.5
≥3.5
≥3.5
≥3.5
≥3.5
4
Softening coefficient
≥0.8
≥0.8
≥0.8
≥0.8
≥0.8
≥0.8
≥0.8
5
Surface density(kg/m2)
≤70
≤70
≤90
≤90
≤110
≤110
≤130
6
Moisture rate(%)
≤10
≤10
≤10
≤10
≤8
≤8
≤8
7
Dring shrinkage value(mm/m)
≤0.5
≤0.5
≤0.5
≤0.5
≤0.5
≤0.5
≤0.5
8
Hang force(N)
≥1000
≥1000
≥1000
≥1000
≥1000
≥1000
≥1000
9
Sound insulation capacity in the air(dB)
≥35
≥35
≥40
≥40
≥45
≥50
≥55
10
Fire endurance(h)
≥1.5
≥1.5
≥2.5
≥2.5
≥3.0
≥4.5
≥6.0
11
Heat transfer coefficient(w/m2.k)
≤2.0
≤2.0
≤2.0
≤2.0
≤2.0
≤2.0
≤2.0
12
Inner radiation index
≤1
≤1
≤1
≤1
≤1
≤1
≤1
13
Outer radiation index
≤1
≤1
≤1
≤1
≤1
≤1
≤1
14
Frost resistance(shall show no visible cracks and surface without change)
_
_
shall show no visible cracks and surface without change
15
The combustion properties(A1 or A2)
_
_
A1 or A2
Projects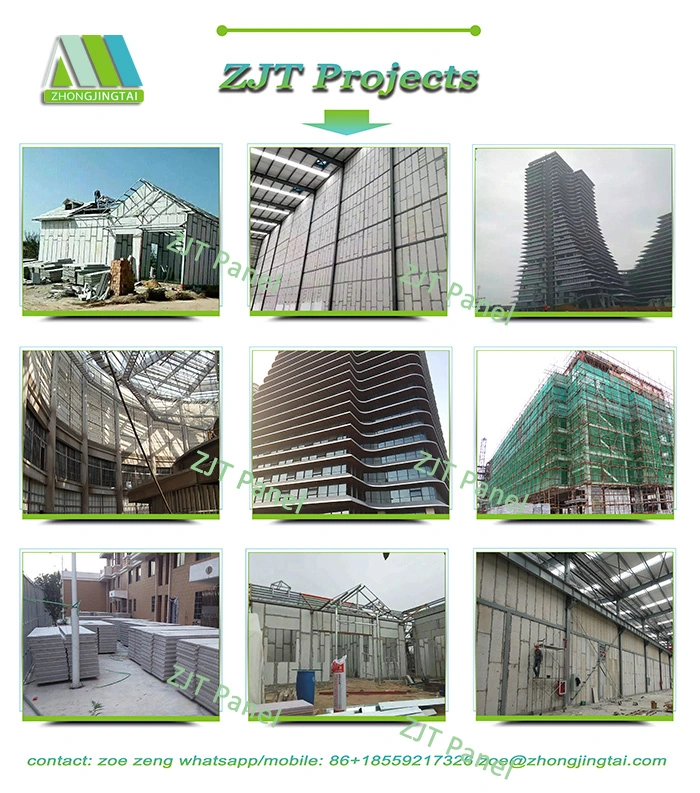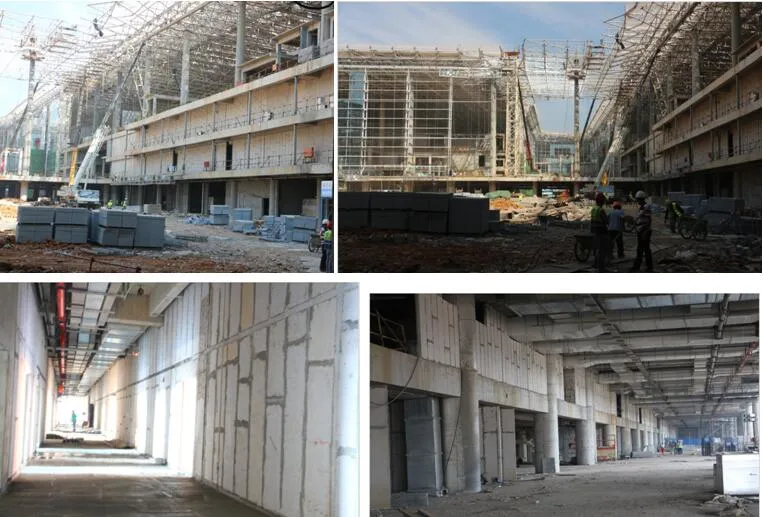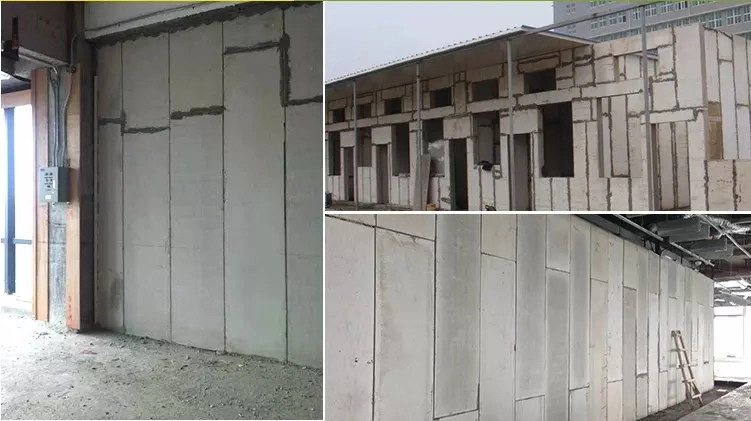 Pack details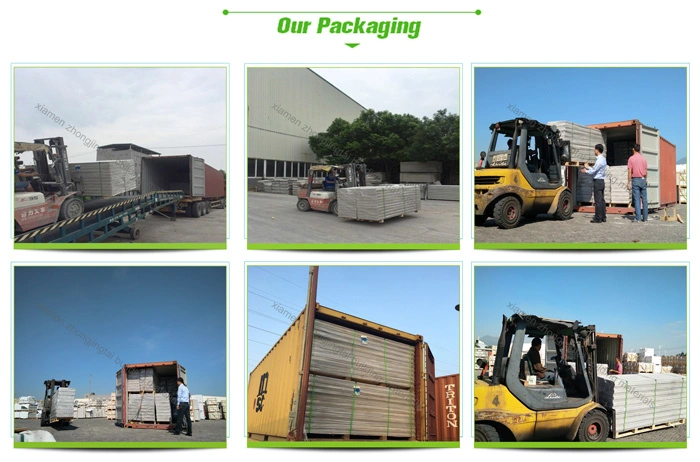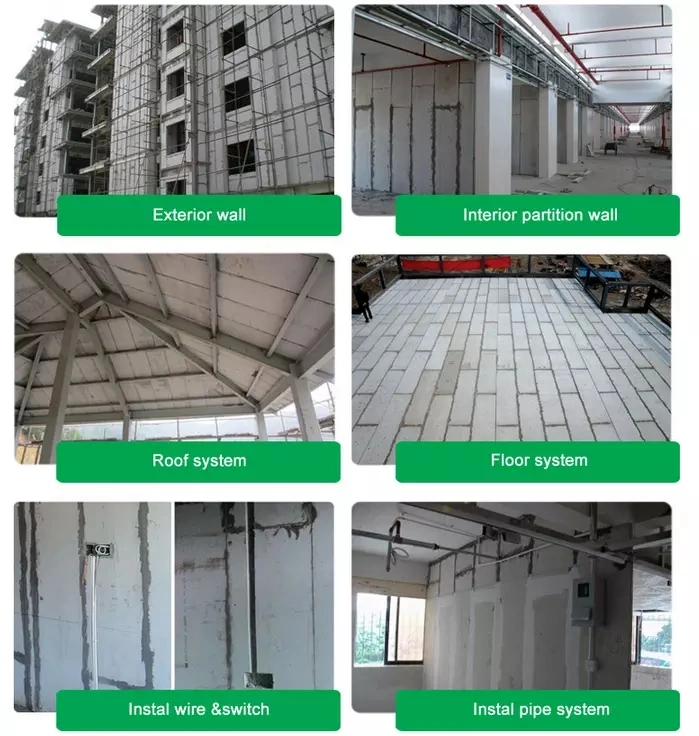 About us
Xiamen ZhongJingtai building materials Co., Ltd, is a professional high-tech research and development company producing new wall materials, machinery and equipment development, technology production and promotion of product applications. The company is situated in the charming Xiamen city, with the convenience of water and land transportation and only ten minutes from the airport. We respond positively to the national policy on wall reforming. We have developed successfully wall panels that meet the energy saving needs of modern architecture. We can produce more than 2 million square meters of various wall materials annually.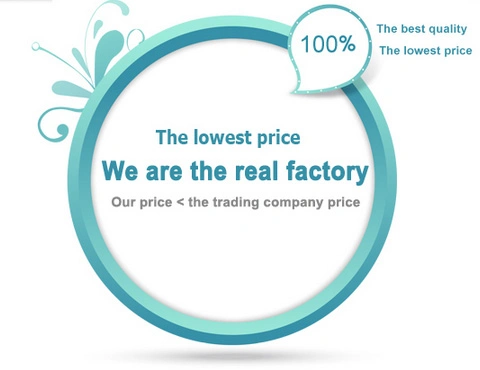 Certificates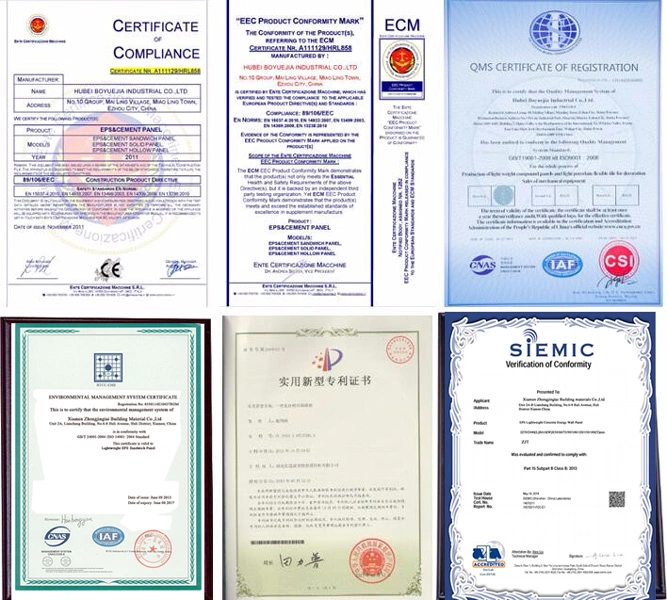 Contact Us
Dear friend, any problem, please feel free to contact us,thank you very much.
Contact Person: zoe zeng
Tel:86-592-5216902
Fax:86-592-5216319
Mobile: +8618559217326
Http://
zjteps.en.made-in-china.com
Please check ZJT installation video
https://zjteps.en.made-in-china.com